Australian Precious Wood, Square Timber, Length 300 mm, Figured Jarrah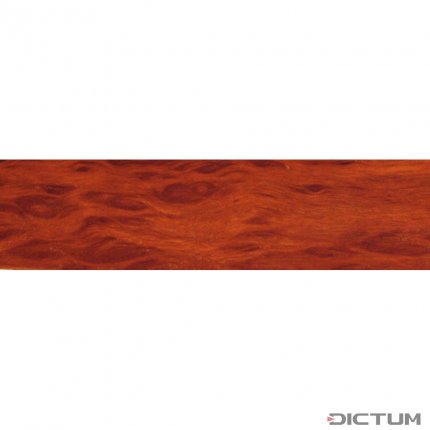 Blanks for making high-quality knife handles, turnery and decorative objects. Sealed end grain, virtually crack-free.
Australian Precious Wood
In stark contrast to many types of tropical precious woods, Australian precious woods are harvested in a strictly controlled manner exclusively by federally licensed timber merchants. Burls growing on 100-year-old trees are carefully removed in a manner which actually revitalizes the living tree. The extraordinarily wild grain makes these timbers wonderful for turning bowls and boxes, making knife handles, and carving fine objects and jewellery.
more
less
Dimensions

300 x 40 x 40 mm

Wood type

Figured Jarrah
Discover product in our flip catalogue:

Article out of stock - Article early May 2020 available
€25.80

per piece(s)
Prices incl. VAT

Type
Price
Quantity

Australian Precious Wood, Square Timber, Length 300 mm, Red Mallee

Article number 831120

€39.30

Australian Precious Wood, Square Timber, Length 300 mm, Lace Seoak

Article number 831121

€32.40

Australian Precious Wood, Square Timber, Length 300 mm, Figured Jarrah

Article number 831122

€25.80

Australian Precious Wood, Square Timber, Length 300 mm, Goldfield

Article number 831123

€36.80

Australian Precious Wood, Square Timber, Length 300 mm, Mulga

Article number 831124

€33.50