Pfeil Chisel, 6-Piece Set
Quality by tradition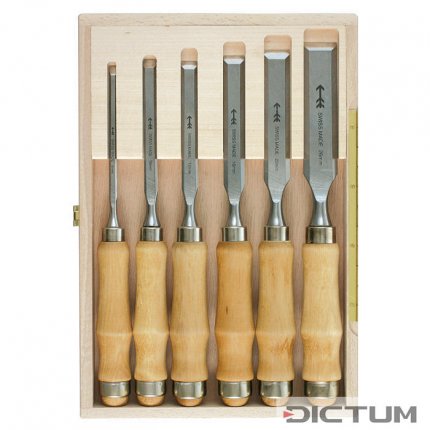 6-piece set in beechwood case: 6 / 10 / 12 / 16 / 20 / 26 mm
Precision-made chisels with a traditional design. Forged from a chrome-vanadium steel alloy, heat-treated in an electric furnace, then ground and polished by hand. The high quality of these chisels is exemplified by their uniform hardness (approx. 60 HRC) and homogeneous fine mirror polish. The blades come pre-sharpened, ready to use, and fitted with unvarnished hornbeam handles.
more
less
Pfeil

Blade length

95-105 mm

Overall length

260-280 mm

Blade thickness

2.5-4.5 mm

Version

6-Piece Set

Blade width

6 / 10 / 12 / 16 / 20 / 26 mm
Discover product in our flip catalogue:

Please inform me as soon as the product is available again.
Item not available until further notice.
€138.00

per set
Prices incl. VAT