Bio-Diamond Pastes, 4-Piece Set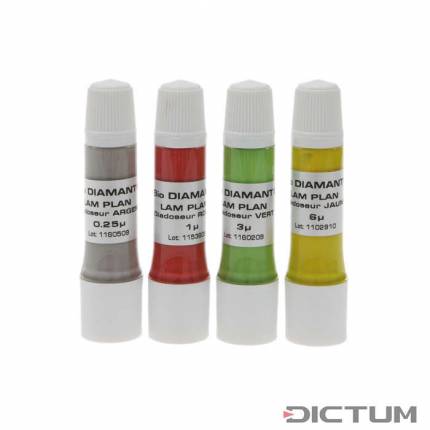 These Bio-Diamond sharpening pastes have a more fluid, water-based carrier with no harmful chemical additives or solvents and are therefore particularly gentle to the skin. The fluid substance in the handy dispenser allows easy and economical application. Normally the pastes last for many years. The high content of even-sized, sieved diamond particles ensures fast and effective abrasion. Any residual paste can be easily removed.
Colour coding: yellow 6 micron, green 3 micron, red 1 micron, grey 0.25 micron.
Content per tube 7 ml.
more
less
Discover product in our flip catalogue:

Article out of stock - Article late April 2020 available
Content: 28 ml (€478.57 / 100 ml)
€134.00
Prices incl. VAT