Gränsfors Sculptor's Hatchet
This sculptor's hatchet was developed together with Swedish sculptor Wille Sundqvist and is forged by hand under a spring hammer. As well as a heavy head, which makes it ideal for rough shaping, it has a long beard which protects the hands when the hatchet is held close to its head for detail work. Curved blade and pointed toe (top end of the blade) allow it to be used for many sculpting purposes.
Double bevel. Serrated handle. Comes with leather sheath.
more
less
Head weight

900 g

Blade length

120 mm

Overall length

370 mm
Discover product in our flip catalogue:

Ready to ship today, delivery time 2-3 workdays within Germany
€139.00

per piece(s)
Prices incl. VAT

Replacement parts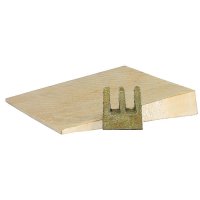 Wood and iron wedge. Tips for setting the handle: The handle should be made of wear resistant, elastic and very dry wood, e.g. ash or hickory. Saw off the old handle and drill out the wood that remains in the head and clean the inside...

incl. VAT plus shipping costs
Article No. 705970
incl. VAT plus shipping costs
Article No. 800006
incl. VAT plus shipping costs
Article No. 800075
incl. VAT plus shipping costs
Article No. 701572
incl. VAT plus shipping costs
Article No. 701599