Mother-of-Pearl, Eyes, Paua, Ø 2 mm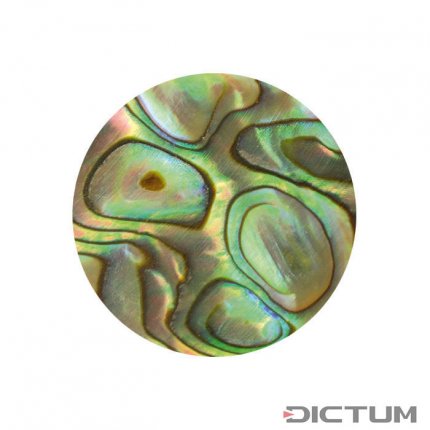 Circular pieces.
Mother-of-Pearl
Mother-of-pearl is one of the most fascinating natural materials known to humankind. Its magical glossiness and intriguing array of colours make it perfect for enhancing the appearance of turnery, furniture, caskets, toys and musical instruments. It is easy to work and polish and therefore ideal for intarsia, marquetry and jewellery applications. The white, pink, black and gold mother-of-pearl is harvested from the saltwater pearl (pinctada maxima). The paua mother-of-pearl is harvested from a mussle species (haliotis iris) from the South Seas that has a highly figured and colourful grain (blue/turquoise/green). Colours and materials as shown may vary from the original.
Thickness approx. 1.3 mm.
more
less
Colour

paua

Dimensions

2 mm

Packing unit

20 piece
Please inform me as soon as the product is available again.
Item not available until further notice.
€3.50

per set
Prices incl. VAT

Price
Quantity
paua
Colour: paua
Dimensions: 2 mm
Packing unit: 20 piece


€3.50

Colour: paua
Dimensions: 4 mm
Packing unit: 20 piece


€3.70

Colour: paua
Dimensions: 5 mm
Packing unit: 20 piece


€4.30

Colour: paua
Dimensions: 7 mm
Packing unit: 20 piece


€4.90

Colour: paua
Dimensions: 10 mm
Packing unit: 20 piece


€7.70

Colour: paua
Dimensions: 2 mm
Packing unit: 100 piece


€16.90

Colour: paua
Dimensions: 4 mm
Packing unit: 100 piece


€17.90

Colour: paua
Dimensions: 5 mm
Packing unit: 100 piece


€20.90

Colour: paua
Dimensions: 7 mm
Packing unit: 100 piece


€23.80

Colour: paua
Dimensions: 10 mm
Packing unit: 100 piece


€34.50
Price
Quantity
white
Colour: white
Dimensions: 2 mm
Packing unit: 20 piece


€3.30

Colour: white
Dimensions: 3 mm
Packing unit: 20 piece


€3.30

Colour: white
Dimensions: 4 mm
Packing unit: 20 piece


€3.50

Colour: white
Dimensions: 5 mm
Packing unit: 20 piece


€3.90

Colour: white
Dimensions: 7 mm
Packing unit: 20 piece


€4.60

Colour: white
Dimensions: 10 mm
Packing unit: 20 piece


€6.90

Colour: white
Dimensions: 2 mm
Packing unit: 100 piece


€15.90

Colour: white
Dimensions: 3 mm
Packing unit: 100 piece


€15.90

Colour: white
Dimensions: 4 mm
Packing unit: 100 piece


€16.70

Colour: white
Dimensions: 5 mm
Packing unit: 100 piece


€19.40

Colour: white
Dimensions: 7 mm
Packing unit: 100 piece


€22.50

Colour: white
Dimensions: 10 mm
Packing unit: 100 piece


€33.80

pink
Colour: pink
Dimensions: 5 mm
Packing unit: 20 piece


€4.30

Colour: pink
Dimensions: 10 mm
Packing unit: 20 piece


€7.70

Colour: pink
Dimensions: 5 mm
Packing unit: 100 piece


€20.90

Colour: pink
Dimensions: 10 mm
Packing unit: 100 piece


€36.90

gold
Colour: gold
Dimensions: 5 mm
Packing unit: 20 piece


€4.30

Colour: gold
Dimensions: 10 mm
Packing unit: 20 piece


€7.70

Colour: gold
Dimensions: 5 mm
Packing unit: 100 piece


€20.90

Colour: gold
Dimensions: 10 mm
Packing unit: 100 piece


€36.90

paua
Colour: paua
Dimensions: 2 mm
Packing unit: 20 piece


€3.50

Colour: paua
Dimensions: 4 mm
Packing unit: 20 piece


€3.70

Colour: paua
Dimensions: 5 mm
Packing unit: 20 piece


€4.30

Colour: paua
Dimensions: 7 mm
Packing unit: 20 piece


€4.90

Colour: paua
Dimensions: 10 mm
Packing unit: 20 piece


€7.70

Colour: paua
Dimensions: 2 mm
Packing unit: 100 piece


€16.90

Colour: paua
Dimensions: 4 mm
Packing unit: 100 piece


€17.90

Colour: paua
Dimensions: 5 mm
Packing unit: 100 piece


€20.90

Colour: paua
Dimensions: 7 mm
Packing unit: 100 piece


€23.80

Colour: paua
Dimensions: 10 mm
Packing unit: 100 piece


€34.50