Acrylic Pen Blank, Chocolate
This product is no longer available.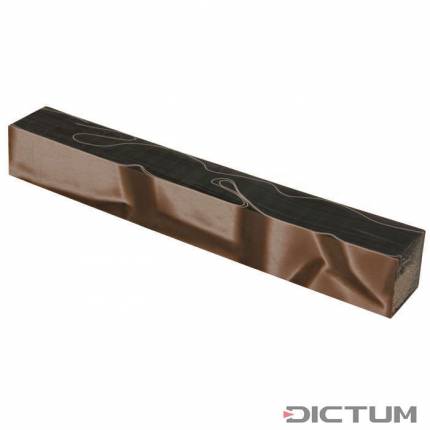 Ideal for writing utensils and minor turning work. Since acrylic has good stability, it can be processed without a sleeve if the wall thickness is sufficient.
Acrylic
Acrylic is an excellent material to work with, as well as being resistant to scratching, weather and ageing. Even medium-concentration acids and bases cannot damage it. Compared to polyester, it is much more stable and heat-resistant. An optimum finish is achieved by using a polishing paste after wet sanding with micro-mesh.
more
less
Dimensions

150 x 20 x 20 mm

Colour

chocolate
€5.26
€3.90

per piece(s)
Prices incl. VAT

Type
Price
Quantity

Acrylic Pen Blank, Blue/Red/White

Article number 831386

€5.40

Acrylic Pen Blank, Grey/Red

Article number 831385

€5.40

Acrylic Pen Blank, Mother of Pearl/Black

Article number 831459

€5.40

Acrylic Pen Blank, Chocolate

Article number 831458

€5.26




€3.90

Acrylic Pen Blank, Ocean Blue/Yellow

Article number 831457

€5.40

Acrylic Pen Blank, Red/Yellow

Article number 831456

€5.40

Acrylic Pen Blank, Acid Green/Black

Article number 831439

€5.40

Acrylic Pen Blanks, Amber/Black

Article number 831438

€5.40

Acrylic Pen Blank, Carbon

Article number 831594

€5.40

Acrylic Pen Blank, Jungle

Article number 831595

€4.00




€4.00

Acrylic Pen Blank, Gold/Black

Article number 831596

€5.40

Acrylic Pen Blank, Ivory Pearl

Article number 831597

€5.40

Acrylic Pen Blank, Ruby Pearl

Article number 831598

€5.40

Acrylic Pen Blank, Turquoise Pearl

Article number 831633

€5.40

Acrylic Pen Blank, Orange/Red

Article number 831634

€5.40

Acrylic Pen Blank, Gold Glitter

Article number 831790

€5.40

Acrylic Pen Blank, Magenta Pearl

Article number 831789

€5.40

Acryl-Pen-Blank, Sky Blue Pearl

Article number 831788

€5.40

Acrylic Pen Blank, Nebular

Article number 831787

€5.40

Acrylic Pen Blank, Arctic Blue Ice

Article number 831786

€5.40

Acrylic Pen Blank, Green Pearl

Article number 831785

€5.40

Acrylic Pen Blank, Violet/Yellow

Article number 831791

€5.40

Acrylic Pen Blank, Iced Lavender

Article number 831795

€5.40

Acrylic Pen Blank, Iced Strawberry

Article number 831793

€5.40

Acrylic Pen Blank, Iced Copper

Article number 831794

€5.40

Acrylic Pen Blank, Orange Pearl

Article number 831796

€5.40