Obsidian brown, 1.1-1.4 kg
.
This product is no longer available.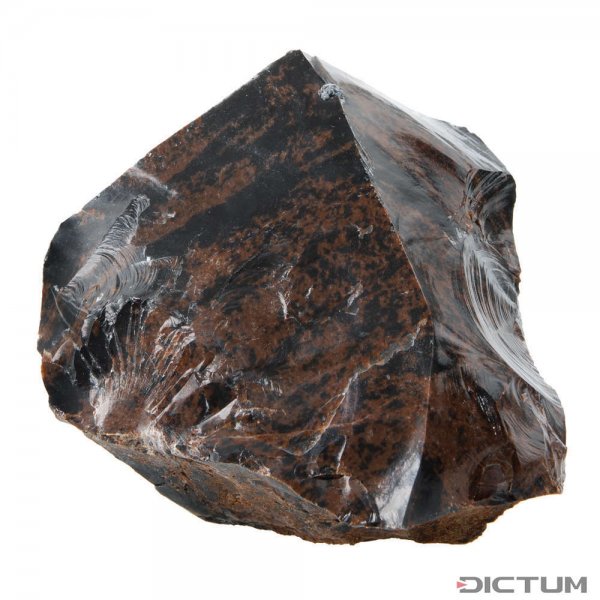 Igneous obsidian was used to make arrowheads and knife blades long before humankind discovered how to forge steel blades. Ancient Japanese civilizations as well as the Aztecs of Central Americal relied on this amazingly sharp¹ natural material. The knowledge required to fracture this extremely brittle naturally occurring glass into useful blade shapes has virtually disappeared. One enclave remains in Hokkaido, Japan, where high-quality obsidian is still available in sufficient quantities.² We are pleased to be able to offer obsidian of this quality to ambitious knifemakers, experimental anthropologists and other handcraft artists. The translucent stones also are amazingly eye-catching, allowing them to be additionally suitable for making jewelry and other fine objects.
¹ The very sharpest cutting edges are still produced by fracturing. This is one of the reasons fractured obsidian is used to make the cutting edges of the scalpels used by eye surgeons.
² To fracture obsidian, you will need a stone for coarse splitting as well as a deer horn hammer, a deer antler tip for fine splitting and a piece of leather to protect your hands. Please note gathering the experience necessary to produce reliable results is difficult, as unseen irregularities in the structure of the stone often will determine how the stone fractures. Instructions are included.
Obsidian
more
less
Colour

brown

Weight

1.11 - 1.4 kg
€19.90

per piece(s)
Prices incl. VAT

You might also be interested in