HSS Chisel for Carpenters, 5-Piece Set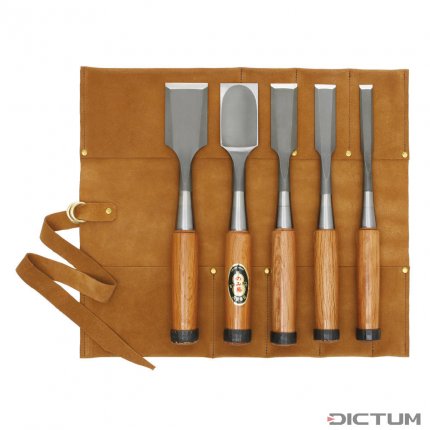 5-piece set in a leather tool roll: 15 / 24 / 30 / 42 / 48 mm
For heavy-duty restoration and joinery work on site. Extra-long blades with reinforced necks and thicker blades for deep mortise holes and large stock.
HSS Chisels
These powerful chisels made of extremely hard HSS offer excellent sharpness and a long edge life. Very hard (approx. 63 HRC) and tough, these chisels are able to withstand the rough handling which is often unavoidable in a workshop. Even sharpening on dry grinding machines is possible without compromising the hardness of the steel. The extra-long handles are made of Japanese red oak and have pre-fitted, forged steel ferrules.
more
less
Akio Tasai/Michio Tasai
The master smith Akio Tasai has earned himself a legendary reputation among Japan's metalworkers, especially due to his Mokume technique. His son Michio Tasai is following in the footsteps of his father, acquiring his Japanese sword-making license - the most prestigious accolade among smiths - at the tender age of 38 after eight years of study under the master sword smith Takano Yukimitsu. They use Blue Paper Steel, specifically manufactured according to their needs, to manufacture the cutting layer of their tools, as this particular steel remains easy to sharpen despite its hardness.
Blade length

80 mm

Overall length

290 mm

Blade thickness

6-8 mm

Version

5-Piece Set

Blade width

15 / 24 / 30 / 42 / 48 mm
Set consists of the following articles:
Ready to ship today, delivery time 2-3 workdays within Germany
€459.00

per set
Prices incl. VAT

Price advantage
Article no.:
718870
Blade width:
15 / 24 / 30 mm
Price advantage
Article no.:
718869
Blade width:
15 / 24 / 30 / 42 / 48 mm
Accessories
Strong, impregnated cotton fabric rollup case. Belt with snap fastener. As the tools are secured by a flap, they cannot fall out.

incl. VAT plus shipping costs
Article No. 707513
Heavy fabric with shaped pockets for chisels, gouges, screwdrivers, spanners, pliers etc. Includes belt with snap fastener.

incl. VAT plus shipping costs
Article No. 712900

incl. VAT plus shipping costs
Article No. 717501