Hon Dozuki Deluxe 240, Crosscut
The finest Dozuki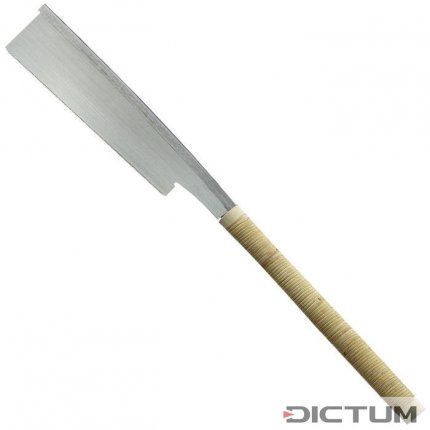 Hand-crafted saw for highest-precision cuts, well-suited for fine cabinetmaking and restoration work. The extremely thin blade and minimal set (0.3 mm) result in very little cutting loss. Super-light wooden handle, rattan wrapped.
Deluxe Saws
Our handmade master saws for the highest demands provide unparalleled control, surprising balance and the finest kerfs. The handles are made of light kiri wood and wrapped in rattan.
All saws are made by hand in numerous steps
The blades are made from vacuum-melted White Paper Steel for maximum edge life
Each blade is straightened manually with a straightening hammer and hand-engraved by the master himself
Through-hardened blade:
Allows resharpening by hand
If used correctly, these saws will serve you for life
The saw blades are hollowed by hand over the whole blade width to ensure the optimum blade thickness at each point of the blade:
Ultimate flexibility and stability of the blade
Ensures smooth, frictionless cutting
Creates the cleanest cuts
more
less
Blade length

240 mm

Overall length

610 mm

Cut depth

50 mm

Blade thickness

0.2 mm

Setting

0.3 mm

Crosscut teeth

0.8 mm
Discover product in our flip catalogue:

Ready to ship today, delivery time 2-3 workdays within Germany
€179.90

per piece(s)
Prices incl. VAT

Accessories
European cowhide, rivet-reinforced seams, slide-in tongue with hang-up hole.

incl. VAT plus shipping costs
Article No. 712871