Japanese Hair Cutting Scissors Pleasure 5.25"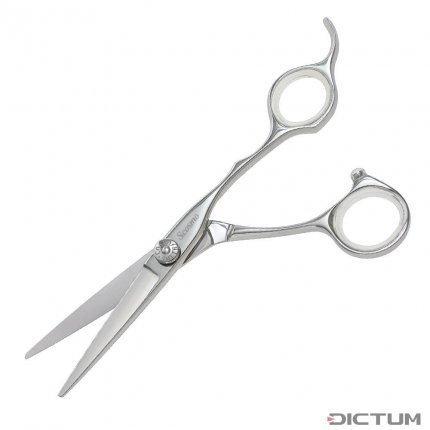 Made from drop-forged stainless Hitachi ATS 314* steel. The special cobalt-alloy steel makes the ultra-sharp blades resistant to corrosion and wear, and thus ensures an exceptional edge life. Ergonomic shape with integrated finger rest. Hardness 59 HRC.
* ATS 314: High-alloy steel, specially developed for hair cutting scissors (15% chromium, 4% molybdenum, vanadium, cobalt, nickel).
Japanese Hair Cutting Scissors
Professional haircutting scissors made by hand in Japan have a quality that is second to none and meet the highest standards of functionality and design.
The rust-proof steels used in these models have an outstanding edge life and provide an extremely gentle, comfortable cut. The balanced, ergonomic design allows relaxed cutting and prevents hands from tiring. The scissors have a large knurled screw for easy adjustment and come with 2 finger rings that fit different sizes. All Japanese professional haircutting scissors are made by hand in Japan.
more
less
Ready to ship today, delivery time 2-3 workdays within Germany
€243.00

per piece(s)
Prices incl. VAT