Sculpting Blades, 18-Piece Set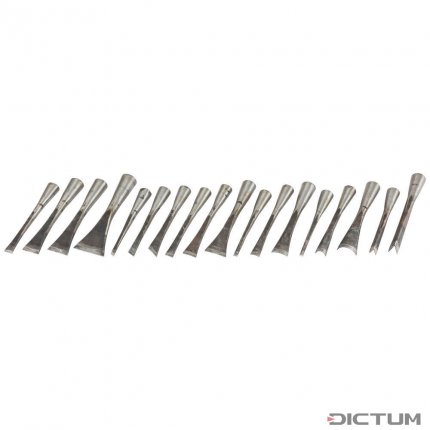 Tools of forged double-layered steel for all-purpose carving. The blades have socket tangs. Mixture of forms (flat, flat/skew, curved, V). Coarse ground, no handles.
Traditional Chinese Carving Tools
These exceptional carving tools emanate from two forges on the southern Chinese city of Dongyang, a centre of the sculpting craft. With the small chisels, the durable blades are sharply tapered into a pointed tang. The larger tools have a socket-shaped throat which holds the handle and prevents splitting. The small carving blades are made of carbon steel (C 60, approx. 58 HRC). The socket tools are forged of double-layered steel (above 60 HRC). In line with Chinese tradition, the chisels are only roughly ground by the blacksmith. It is the user who makes the chisels ready-for-use by fine grinding to the required sharpness and mounting the handles.
Note: Due to the entirely manual production, the stated dimensions are subject to relatively wide fluctuations.
more
less
Overall length

100-120 mm

Blade width

3-40 mm
Discover product in our flip catalogue:

Ready to ship today, delivery time 2-3 workdays within Germany
€114.00

per set
Prices incl. VAT