With this Veritas plane you can produce precise rabbets up to a width of 40 mm and a depth of 20 mm. Large knurled brass screws provide easy and fast adjustment to the fence and depth stop. The blade can be easily aligned and set, it is skewed at a 30 degree angle to reduce cut resistance and help pull the fence tight against the workpiece. A small circular scoring spur ahead of the blade avoids tear-out on cross-grain or difficult grain wood. Lapped A2 tool steel blade or PM-V11 blade, 60-62 HRC.
Veritas Planes
The corporate philosophy of Canadian tool manufacturer Veritas aims to develop new adjustment mechanisms and enhance historic plane design. With bodies made of stress-relieved spheroidal cast iron, these tools are highly resistant to cracking and distortion. Their soles are perfectly plane and trued at right angles to the sides. Their thick blades of high-strength A2 steel are hardened to 60-62 HRC and additionally subjected to a special low-temperature process to achieve a finer grain. Veritas planes are optionally available with PM-V11 blades. (The Custom series models are equipped with PM-V11 blades as standard). Two setscrews on the sides constrain the blade laterally, keeping it in place regardless of the type of stress applied. Unless otherwise stated, the blade is angled at 45°. With their material combination of finely-ground or black-coated cast iron bodies, polished brass setscrews and beautiful precious wood handles, these planes are also pleasing to the eye.
more
less
Veritas

Blade material

A2

Blade width

41 mm

Blade thickness

3.3 mm

Overall length

250 mm

Weight

1.6 kg
€239.00

per piece(s)
Prices incl. VAT

Accessories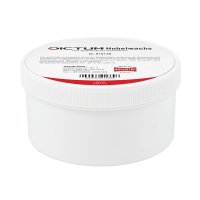 The DICTUM wax for planes is not only used to prevent metal planes from rusting with long-lasting effect, but also reduces the friction between the plane sole and the workpiece. The application of stains, oils & lacquers is not affected....
(Content: €3.56 / 100 ml)
incl. VAT plus shipping costs
Article No. 810149
Replacement parts
incl. VAT plus shipping costs
Article No. 703677
incl. VAT plus shipping costs
Article No. 703708
incl. VAT plus shipping costs
Article No. 703678
incl. VAT plus shipping costs
Article No. 703634