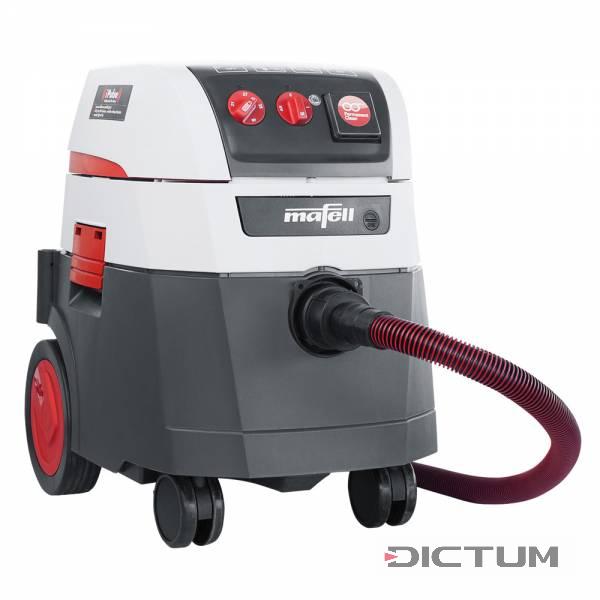 The all-new S 35 M combines outstanding suction performance with great ease of use. Thanks to permanent clean functionality, a nanocoated main filter and intelligent
iPulse
sensor technology, all types of dust in dust class M are permanently and reliably removed.
Your benefits:
Uninterrupted operation for long periods of continuous duty. Owing to the very latest filter cleaning technology, consistently high suction performance is maintained even during the automatic main filter cleaning cycle.
The extent of filter contamination is monitored by special sensor technology. As a consequence, cleaning takes place only when the filter is actually contaminated, and not at fixed intervals or when the hose is blocked or kinked.
The low center of gravity, wide chassis, two large wheels and locking casters offer good mobility and stability
Application:
For wet and dry pick-up
For picking up waste
Compatible materials include dust, chips, liquids
Dust class M for use as standard industrial and commercial vacuum cleaners
For wet and dry suction cleaning. All the appliances are equipped with microprocessor-controlled electronics for safe and efficient operation. The features include smooth starting, which eases the load on both the appliance and the power circuit, and automatic running-on to ensure that the hose is emptied when the extractor is switched off. In addition, the speed control allows the suction force to be adjusted according to the extent of contamination and the hose diameter.
A long service life is ensured by the high-performance motor fan with bypass cooling. Thanks to the automatic on/off switch, the MAFELL dust extractors can be used for extracting the dust created by all other makes of power tool as well. All the MAFELL models are also suitable for picking up liquids.
Scope of delivery
Extraction hose 4 m (13.1 ft), Ø 27 mm (1 1/16 in.), anti-static with bayonet lock Ø 6 mm (2 5/8 in.), hose connector Ø 35 mm (1 3/8 in.)
1 Folded filter cassette, 1 pair (polyester nano-coated)
PE disposal bag PE-FB 35
more
less

Built by professionals for professionals
Founded in 1899, MAFELL's sole production facility today is in Oberndorf on Neckar, near Stuttgart, Germany. Here they produce ""quality made in Germany"", with up to 85% of components made by themselves, and their own tool design and construction operation. With its roots in carpentry, MAFELL has made its way into joiner's workshops since 1980, when it developed ERIKA, the first pull-push saw. More innovations followed: For its portable panel saw system PSS 3000, the Flexistem KSP 40 and, not least, the precision jig saw P1 cc, MAFELL is acknowledged the world over and has won several awards, including the Rudolf-Eberle Award, the Eumacop Innovation Award and the iF Product Design Award.
Buy without risk

MAFELL Complete:
3 year cost protection warranty - comprehensive cover against repair costs. The warranty also covers battery packs and wear parts such as ball bearings, sealing rings, carbon brushes, rubber sleeves and switches.

Simply register your machine free of charge with the manufacturer within 30 days of the purchase date.
MAFELL Complete is currently available only in Germany and Austria.

ServicePlus Protection Letter:
The ServicePlus Protection Letter (price graded according to the value of the machine) provides a 36-month insurance cover for machines. The repair costs are reimbursed against co-payment and in the case of a total loss you receive a new machine in exchange. Insures against theft, handling errors, wilful intent of third parties, short-circuit or over-current, and natural hazards such as fire, explosion, storm, frost and flooding.
ServicePlus Protection Letter is only available in Germany.
The general Ts&Cs of MAFELL AG are valid for machines of the MAFELL Powershop System.
For more information on MAFELL service & warranty terms.
Discover product in our flip catalogue:

€966.28

per piece(s)
Prices incl. VAT

You might also be interested in