DICTUM Splitting Knife, Standard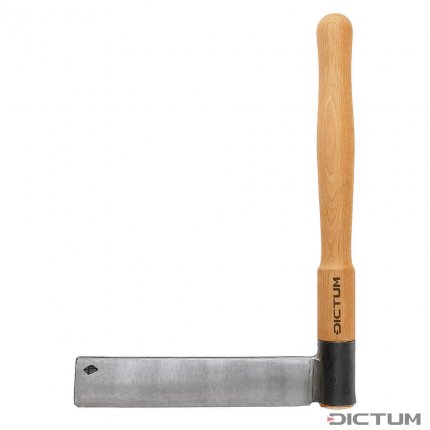 This splitting knife excels through its shape, which has been developed and improved over many centuries. The turned handle with cross-wedging is fixed in the conical eye of the iron, and due to its shape is very comfortable to hold. The cutting edge, which is made of carbon steel with approx. 55 HRC, easily splits shingles and battens. Splitting knives are hit with a rawhide hammer (No.
705681
).
DICTUM Carpenter's Axes
»A smith is only as good as the workman who can explain the function of the tool to him«. These high-quality tools are developed in cooperation with our master carpenter and produced in small European forges according to traditional forging techniques.
Features of DICTUM axes and hatchets:
Forged by hand
Forged of carbon steel (hardness 56-57 HRC*)
Practical, tried-and-tested traditional axe
Ash handle with natural Urushi surface for comfortable feel and dirt protection
Handle is set by means of a wooden wedge
* unless otherwise stated
more
less
DICTUM

Most of the products we sell as a trading company we produce ourselves. Our brand Herdim has been synonymous with musical instrument making products for more than 100 years. Our design department staff devises our products from scratch - from simple component drawings for the development of hand tools to complex component groups in the field of power tools. All materials such as cutting steels, casting materials or handle materials are selected according to their intended use and produced according to our specifications. If possible, we produce the components for our tools ourselves. Complex manufacturing processes (casting, deep drawing, forging, lasering) are carried out by specialised companies. We monitor the processes and carefully check the finished components. We carry out the final assembly of the individual components, as well as the cutting of wood and the bottling of finishing agents ourselves. Our brands include products for musical instrument making (Herdim), as well as tools and machines (DICTUM). Further DICTUM brands include: Sinensis, Lignea, Kunsuto, RosinLegnin, Robusuta, Shinko…
Head weight

1.2 kg

Blade length

265 mm

Model

standard
Discover product in our flip catalogue:

Ready to ship today, delivery time 2-3 workdays within Germany
€89.00

per piece(s)
Prices incl. VAT

Accessories

incl. VAT plus shipping costs
Article No. 715172