Sharpening Set for Turning Tools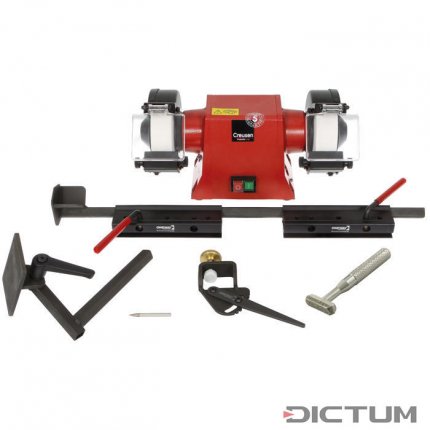 This set gives you all you need for sharpening turning tools. The low-speed Creusen double-wheeled grinder (No.
716025
) for cool grinding ideally complements the Wolverine sharpening, basic set (No.
702170
) and Vari Grind (No.
702171
). Also included is a diamond truer (No.
705259
) for trueing the stones. The diamond sharpener (No.
707399
) is used to sharpen hook and ring tools.
Creusen Double-Wheeled Grinder 7500 TS
Unlike all other conventional double-wheeled grinders, the 7500 TS is specially designed to suit the needs of tool sharpening.
The speed range of 1500 rpm greatly reduces the risk of the steel getting too hot. Most conventional double grinders run at speeds of over 3000 rpm
This is an unbeatable advantage especially when it comes to rolling over larger turning gouges
Durable thanks to the high-quality engine components
Vibration free
Low noise level
Robust design
230 V, 350 W, 10.5 kg
more
less
Discover product in our flip catalogue:

Set consists of the following articles:
Ready to ship today, delivery time 2-3 workdays within Germany
€464.00

per set
Prices incl. VAT