Router bits
Expert knowledge - High quality Router Bits
Quality provides safety
When it comes to end mills, good quality does not simply mean better milling results. It also means increased safety. High-quality cutters (right) do not economize on the material, as is often the case with cheap cutters (left):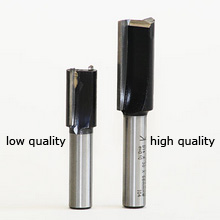 Long shanks made of molybdenum steel for a secure fit; minimum-clamping depth is engraved on the shank.
Robust base for a high degree of stability, with non-stick coating for less friction and prevention of wood dust from sticking.
Thick TC blades of micro grain quality properly soldered to the carrier, for a high degree of breaking resistance and long-term sharpness.
Quality ball bearings that withstand the high strain of up to 30,000 U/min.

The cutters in the DICTUM assortment are subject to an ongoing quality control and comply with European safety standards (EU Standards 847-1 and -2). Even our practical Bit Sets (No. 717660) with 12 and 22 parts fulfill these high requirements.
Manual feed (MAN)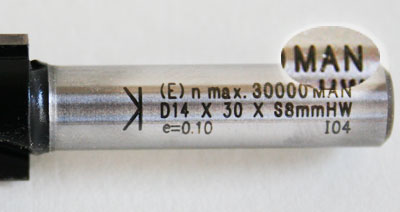 All end mills in our assortment are suitable for the manual feed (MANual feed). This means that they have a maximum chip thickness limitation of 1.1 mm, as prescribed by the institute for statutory accident insurance. Nevertheless, you should not simply guide every cutter manually along the workpiece. This particularly applies to cutters with greater diameters, such as a Panel-Raising Bit with Ø 50.8 mm (No. 717778), which you should exclusively use on a Festool Module-Mounting CMS-OF (No. 706659). Even cutters that are intended for manufacturing a wood joint, such as the Double Rail and Stile Bit (No. 717779), only provide precisely fitting results when a router table is used.
Cleaning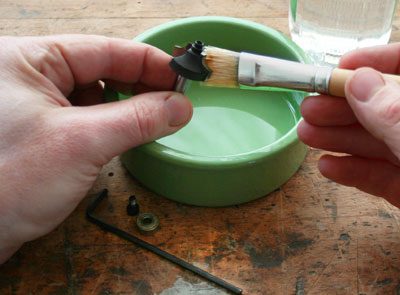 Maintenance of end mills is relatively simple in the case of proper use. After the processing of resinous woods such as pine, you should immediately clean off the adhering wood dust from the cutter and its ball bearings, since this hardens over time and can lead to stubborn encrustation.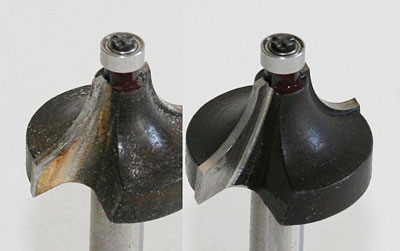 The dust can usually be removed with a bit of ethyl alcohol or Turpentine (No. 705293) and a hard brush. The bases of our cutters have a non-stick coating. Ballistol® Resin Solvent (No. 705524) is highly suited for removing stubborn resin residue on the cutting edge. Always unscrew the ball bearings beforehand, so that they are not degreased.
Resharpening cutters?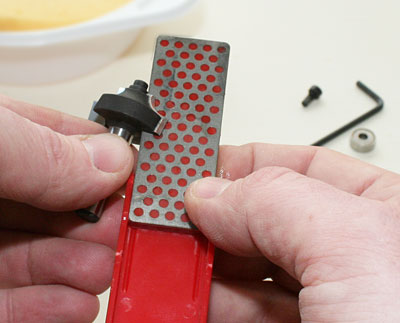 The high-quality TC blades of our cutters impress with their long-lasting cutting edge. After longer use or the processing of very hard woods, even these begin to dull. Please do not continue working with a dull cutter – the surface quality suffers, with increased tear and burn marks as the result.
You can easily refresh most cutters yourself. If the cutter has a ball bearing, then remove it beforehand. Subsequently, whet only the plane surfaces of the TC plates on a Sharpening Card (No. 705396) or a Pocket Whetstone (No. 705395) with just a few "file strokes" (do not resharpen the chamfer, as this would change the diameter or profile of the cutter). Work both TC plates with the same number of file strokes, in order to avoid unbalance.
If you color the surfaces of the cutting edge beforehand with a water-resistant felt pen, then the progress of the work can be easily seen. In order to quickly remove the filed TC grains, always dampen the Pocket Whetstone with water.
It is better to bring totally dulled cutters or those with larger indentations in the blade to a professional sharpening service. Our Customer Service would be glad to assist you with this.