Razor ⅝", Desert Ironwood
This wood from the Arizona desert has a beautiful grain and, due to its high density, is extremely resistant to moisture.
Blade with round head and full hollow, polished to a mirror finish.
Razors by Thiers-Issard
Since 1884, traditional French company Thiers-Issard in Auvergne has been making exquisite razors for wet shaving. The blades are made almost exclusively from Carbonsong C135 steel* with an extremely high carbon content of 1.35 %. Due to this high carbon content and the extreme hardness of 64-65 HRC, they can be ground to a very thin edge, thus providing the necessary sharpness for a comfortable shave. For a better grip, the underside of the tang is serrated on all razors. Leather pouch included.
* Carbon steel is far superior to rustproof steel as far as sharpness is concerned. The supposed disadvantage of rust susceptibility is offset by following the care instructions.
Care instructions: After shaving, clean the knife with pure water and dry thoroughly. If the razor is not used over a long period of time, it should be slightly oiled (e.g. Camellia Oil, No.
705280
).
more
less
Model

Desert Ironwood

Blade length

70 mm

Blade width

⅝ʺ

Overall length

250 mm
Ready to ship today, delivery time 2-3 workdays within Germany
€279.00

per piece(s)
Prices incl. VAT

Accessories
Exclusive and space-saving, this roll-up case of fine brown calf leather provides safe and compact storage for folding knives or straight razors and is convenient for travellers to use. It is rolled and fastened with two leather straps...
incl. VAT plus shipping costs
Article No. 709154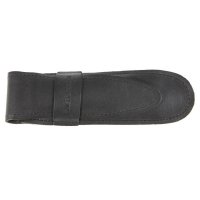 High quality calf leather case with leather tongue closing. Fits all Thier Issard Razors. Ideal for travelling.

incl. VAT plus shipping costs
Article No. 709332