Veritas Complete Set, Plunge Base for Rotary Tools

This set contains the following accessories:
Veritas Fence and Center Kit
The router table fence has two maple wood rails at different heights for straight edges and two fence studs to guide along curved edges. Circle cutter with exchangeable centring pin, centring dowel Ø 6.35 mm and support plate as well as two 152 mm guide rods are included.
Veritas Precision Adjuster
Optional micro-adjust for Veritas Router Fence Table No.
701856
. Attached to the parallel fence or the circle cutter. The knurled screw permits precise adjustment of the router table fence.
Veritas Fence Rods 305 mm, Pair
305 mm guide rods to extend the Veritas Fence and Center Kit.
This attachment transforms any rotary tool, such as the Dremel 3000, into a miniature router for even the most intricate work. Precise depth settings for hinge mortises, inlay work or even freehand cutting of relief pieces and similar patterns. The tightly grouped controls and a 100 x 75 mm base simplify work on slender surfaces or close to edges. An opening in the base gives the operator a free view of the cutting tool. The depth stop has a micro-adjust screw. The cutting depth can be locked if necessary (max. stroke 30 mm). The grooves in the base allow the operator to guide the attachment using his fingertips while leaving the palms to rest on the workpiece. Die cast aluminium with stainless steel depth gauge and controls. Socket for collar with M19 thread (Dremel 3000 No.
704122
, Bosch Rotary Tool No.
712242
).
more
less
Veritas

Set consists of the following articles:
Not on stock - more available soon
€179.00

per set
Prices incl. VAT

Accessories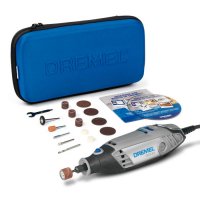 This set comprises the Dremel 3000 Multi-tool and 15 original Dremel accessories, including the innovative Easy Twist system for easy and tool-free changing of accessories. Precise, variable speed, no-load speed from 10 000-33 000 rpm,...
incl. VAT plus shipping costs
Article No. 704122