Magswitch Pro Table Featherboard
The position of the magnets on the back optimises the hold force, even on machine tables with milled T-tracks. Suitable for thicker materials. Contains two MagJig magnets, each with 68 kg hold force.
Optional accessories extend the area of application and the functionality:
Magswitch Vertical Featherboard with mounting bracket and Riser No. 711166
Length 205 mm, width 178 mm, height springs 26 mm.
Magswitch Werkstückhalter mit Schaltmagnet-Technologie
Featherboards and end stops for improved work safety and precision thanks to the exact guidance of the workpiece:
A 180° switch rotation creates a permanently strong magnetic field. This ensures that the devices adhere to all ferromagnetic surfaces such as machine tables or parallel end stops. They can be used horizontally or vertically and prevent the workpiece from flapping about or recoiling e.g. with bandsaws, circular saws, milling machines and surface planers.
Your benefits:
Quick and exact assembly, freely positionable (no T-tracks needed)
High traction of up to 68 kg per magnet
Many possible combinations
Can be used on both the right or left side
Exact guidance of the workpiece
Even and optimum contact pressure
Magnetic field can be turned on/off easily
Adherence to all ferromagnetic surfaces
Small dimensions, also for small machines
Improved work safety
more
less
Ready to ship today, delivery time 2-3 workdays within Germany
€59.90

per piece(s)
Prices incl. VAT

Accessories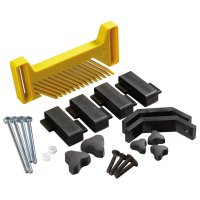 If you use the Featherboard (No. 711172 ) or the Pro Machine Table Featherboard (No. 711173 ), the spring is attached with two brackets in a vertical position to press the workpiece against the machine table. If you work in a...
incl. VAT plus shipping costs
Article No. 711166
This special featherboard for parallel end stops presses workpieces against the machine table e.g. of a surface planer or milling machine. You can also use it on the right side of saw blades or on milling tables with clockwise turning...
incl. VAT plus shipping costs
Article No. 711175
Four risers with a height of 24 mm, mounting screws included. Fits Magswitch Universal Mounting Base No. 711171 , Magswitch Workholding System Starter Package No. 711165 and Magswitch Pro Table Featherboard No. 711173 .
incl. VAT plus shipping costs
Article No. 711176