CNC machined from 303 stainless steel, UJK Technology Parf Super Dogs precisely match the holes made by the UJK Technology 20 mm cutter. They are compatible with the Festool MFT/3 tabletop and other grid tables with 20 mm holes. In order to overcome the tolerances in the dog hole the Parf dogs clamp to your table using a threaded knob at the top. Once locked, there is no wobble or movement. A simple twist of the top in the opposite direction releases the dog. The Parf Super Dog comes with three interchangeable collars (flush fit colllar, Ø 25 mm original parf dog geometry and a chamfered stop collar). The stop collar provides a register ensuring the dog sits exactly at 90° to the work surface when locked in place. You can also insert the Parf Super Dog from beneath the table and lock it for use as a low profile dog. Supplied with two spare O rings.
more
less
UJK

The ujk technology brand was launched by Axminster in 2012 to offer a range of carefully selected products. The range includes routing, measuring and wood jointing products.
Ready to ship today, delivery time 2-3 workdays within Germany
€33.30

per piece(s)
Prices incl. VAT

Accessories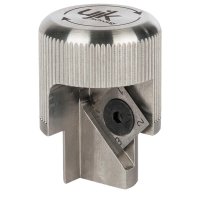 This specially designed tool cuts a neat, small chamfer around the precise 20 mm dog hole made by the UJK Technology 20 mm cutter, as part of using the Parf Guide System. You can also use it on the Festool MFT/3 table. A shallow chamfer...
incl. VAT plus shipping costs
Article No. 720654