Powermatic 719-T Floor Standing Morticer

Robust standing mortiser made of cast iron for precise work with minimum vibration. The unique clamping mechanism with quick adjustment enables fast and precise positioning of the workpiece in a few simple steps. The solid cross-slide with workpiece fence and adjustable dovetail guides can travel along both axes via two hand wheels. Adjustable stops allow you to fix the required mortise dimension, the working depth and the clamping depth of the workpiece. The depth feed is regulated by a hand lever with integrated ratchet system and gas-pressure cylinder to support the mortising. 6 different lever positions ensure comfortable operation. The entire cross-slide can be tilted up to 35° - essential for angled mortises. The entire spindle head can be rotated 180° to accommodate even large workpieces such as doors. Comes with base cabinet made of solid sheet steel for storing mortising drills, operating tools, etc. Mortising drill max. 25 x 25 mm in softwood and 19 x 19 mm in hardwood. For mortising drills with 5/8", 3/4", 13/16" and 1-3/16" shaft. Stroke 200 mm, centre of chisel to back fence 100 mm, max. height of timber 190 mm, table size 520 x 180 mm, table tilt 0° to 35°, table movement X/Y 295/100 mm. Comes with English and German instructions.
Scope of delivery
Base cabinet
13 mm chuck and chuck key
Spindle extension
5/8" (15.87 mm) adapter sleeve
3/4" (19.05 mm) adapter sleeve
13/16" (20.64 mm) adapter sleeve
1-3/16" (30.16 mm) adapter sleeve
Machine table and clamping device
Length stop
more
less
Powermatic

Powermatic, the »gold standard« in woodworking machinery.
What makes Powermatic the gold standard?
With over 90 years of experience in the industry, Powermatic builds high-quality machines. Even in industrial use, Powermatic machines guarantee precision and durability.
Robust and durable
With its cast iron and welded steel machines, Powermatic is renowned for its heavy-duty construction. The superb build quality gives the machines strength and rigidity but also provides a stable platform for accurate work.
Innovation
From the Accu-Fence on the bandsaw to the Feed-Logic on the drum sander, Powermatic focuses on innovations that not only improve your work but also increase safety and ease of use.
Attention to detail
Powermatic machines are planned down to the finest detail. The chrome-plated hand wheels and immaculate paintwork exude quality and style.
High performance
Powermatic builds machines with high-performance motors equipped to deal with the most demanding woodworking tasks.
Motor

230 V

Weight

125 kg

Dimensions

700 x 580 x 950 mm (with lower frame 1550 mm)

No Load Speed

1,450 1/min

Rated Input

1,300 W
Manufacturer's warranty: 2 years on electrical components, 5 years on mechanical components.
Freight forwarding good - Availability and delivery time upon request.
For delivery worldwide please contact our customer service at +49 (0)9931 4058-902.
€1,399.00

per piece(s)
Prices incl. VAT

Accessories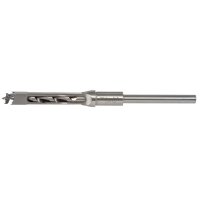 The Japanese auger bit has a centring pin, a cutting edge and a single, deep flute for the quick removal of shavings. The specially formed flute is an advantage with soft, long-fibre wood species in particular. The cutting edge can...

incl. VAT plus shipping costs
Article No. 720552