Hock Plane Blade, A2 Steel, Blade Width 51 mm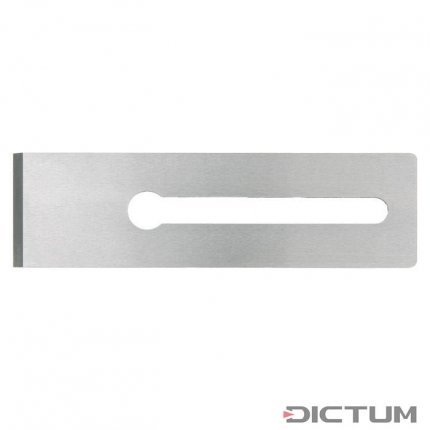 Rustproof blade made of A2 steel with excellent edge life for self-made jack planes. Thanks to cryogenic hardening (extra low-temperature treatment at -185 °C after hardening), the blade has a finer grain, which means it can be ground to a razor-sharp edge. Fits older (not current series) Stanley and Record planes.
more
less
Hock Tools
Hock Tools from California specialises in producing plane and knife blades from high-purity carbon steel. The content of chromium and vanadium additives is below 0.5 %, which allows the blade to be ground to extreme sharpness and makes it easier to restore the edge than with conventional high-alloy tool steels. As well as their initial products - blades for their own legendary Krenov-style wood planes - Ron Hock and his staff have made a name for themselves with replacement blades for upgrading old Stanley planes.
Blade width

51 mm

Blade thickness

2.4 mm

Overall length

178 mm

Model

Fits Stanley Styles No. 4 and 5
Ready to ship today, delivery time 2-3 workdays within Germany
€50.50

per piece(s)
Prices incl. VAT

Article
Blade width
Blade thickness
Overall length
Model
Price
Quantity
Model:
Fits Stanley Styles No. 4 and 5
Model:
Fits Stanley Styles No. 4½, 5½, 6 and 7