Veritas Sharpening System II, Standard

A high-precision guide for precise and consistent perpendicular sharpening of all straight-edged blades. Also suitable for short, irregular and tapered Japanese blades. The adjustable brass roller allows for increasing the angle of inclination by up to 2° when creating a micro bevel without unclamping the tool. Aluminium body, easy-gliding brass roller. Quickly adjustable gauge with grip. Instructions included.
Bevel angle 15°-54°, counter chamfer 10°-20°.
more
less
Veritas

Max. blade width

72 mm

Max. blade thickness

12 mm
Discover product in our flip catalogue:

Ready to ship today, delivery time 2-3 workdays within Germany
€58.30

per piece(s)
Prices incl. VAT

Accessories
This accessory guide with barrel-shaped roller allows for honing slight curves into plane blade edges whilst still maintaining an accurate and consistent bevel angle. Simply replace the standard roller assembly of the Veritas sharpening...
incl. VAT plus shipping costs
Article No. 703839
This mount enables easier sharpening of short blades such as spokeshaves, reversing blades or small violin planes. Two magnets and a moveable fence hold the blades securely, the die-cast aluminium grip extends the blade and enables a...
incl. VAT plus shipping costs
Article No. 702110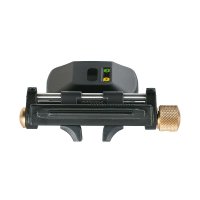 Convert your standard Veritas Sharpening System II (No. 703666 ) into a self-centring double jaw honing guide. Simply replace the standard clamping unit by the double jaw clamp and you're done! The double jaw honing device allows for...
incl. VAT plus shipping costs
Article No. 703843