Shinko Sharpening Machine, Set with 3 Stones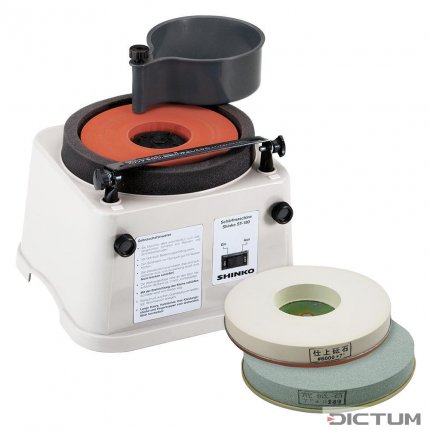 Machine including three waterstones (grits 280, 1000 and 6000).
Shinko Sharpening Machine
The Shinko sharpening system enables the achievement of professional sharpening results. Clogging rarely occurs with the open-pored Japanese waterstones. Water cooling and plane-honing produces long-lasting and strong edges. Because no heat is generated, the blade can be held very close to its edge and guided very accurately. No sparks are produced, allowing the device to be safely operated in workshops and instructional settings. The stone surrounding foam ring is easily pressed down when sharpening long blades.
Sharpening wheel:
Japanese waterstone, grit 1000, Ø 180 x Ø 70 mm, thickness 20 mm, steel mount, wheel nut, splashguard.
Motor: 220 V, 125 W, 50/60 Hz, 450 rpm gear-driven.
Casing: Plastic, tool rest adjustable in height and angle. Water container with valve, drain tube.
Overall weight approx. 5.5 kg.
more
less
Discover product in our flip catalogue:

Set consists of the following articles:
Ready to ship today, delivery time 2-3 workdays within Germany
€309.00

per set
Prices incl. VAT

Accessories
incl. VAT plus shipping costs
Article No. 716021
incl. VAT plus shipping costs
Article No. 716023
incl. VAT plus shipping costs
Article No. 716022