DICTUM Smoothing Plane No. 4, SK4 Blade

The standard smoothing plane is capable of taking the finest of shavings, even on woods with random grain direction.
DICTUM Bench Planes
With their Bedrock design, these planes allow chatter-free cutting thanks to the fully supported blade and a mouth that can be adjusted without removing the cap iron and blade. The rear handle with its width of 26 mm offers a comfortable grip even for large hands. Lateral blade adjustment through easy-to-reach side lever. Cutting angle 45°.
DICTUM Planes
We have developed our DICTUM plane series based on our Herdim planes. We have been making these planes for decades for our violin makers, who require the utmost precision and perfect workmanship. The solid plane bodies made from cast steel* with precisely ground soles aligned at right angles to the sides, together with the minimum 3 mm thick blades made from SK4 steel (61 HRC) signify top quality. A Japanese blade made of Blue Paper Steel (63 HRC) or an HSS blade are optionally available for specific plane models. The blade adjuster allows for precise adjustments and the ergonomically shaped handles developed through tests as well as the polished cap irons sit well in the hand. Handles of native beechwood.
(* unless otherwise stated)
more
less
DICTUM

Most of the products we sell as a trading company we produce ourselves. Our brand Herdim has been synonymous with musical instrument making products for more than 100 years. Our design department staff devises our products from scratch - from simple component drawings for the development of hand tools to complex component groups in the field of power tools. All materials such as cutting steels, casting materials or handle materials are selected according to their intended use and produced according to our specifications. If possible, we produce the components for our tools ourselves. Complex manufacturing processes (casting, deep drawing, forging, lasering) are carried out by specialised companies. We monitor the processes and carefully check the finished components. We carry out the final assembly of the individual components, as well as the cutting of wood and the bottling of finishing agents ourselves. Our brands include products for musical instrument making (Herdim), as well as tools and machines (DICTUM). Further DICTUM brands include: Sinensis, Lignea, Kunsuto, RosinLegnin, Robusuta, Shinko…
Blade width

50 mm

Blade thickness

3 mm

Blade material

SK4 Steel

Overall length

250 mm

Weight

2.25 kg
Discover product in our flip catalogue:

Ready to ship today, delivery time 2-3 workdays within Germany
€123.00

per piece(s)
Prices incl. VAT

Accessories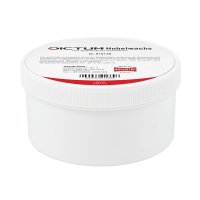 The DICTUM wax for planes is not only used to prevent metal planes from rusting with long-lasting effect, but also reduces the friction between the plane sole and the workpiece. The application of stains, oils & lacquers is not affected....
(Content: €3.56 / 100 ml)
incl. VAT plus shipping costs
Article No. 810149
For adjusting the cutting depth of plane blades. Magnetic surface, high accuracy of 0.01 mm.
incl. VAT plus shipping costs
Article No. 714184
Our systainer and its specially manufactured inlay provide a tailored transport and storage system for the three most common hand planes. Increasingly, building and assembling furniture involves a combination of hand tools and power...
incl. VAT plus shipping costs
Article No. 718805
Replacement parts
Fits DICTUM smoothing planes No. 4 (No. 703331 , 703341 , 703359 ) and jack plane No. 5 (No. 703332 , 703342 , 703360 ).

incl. VAT plus shipping costs
Article No. 703411