Wing Compass »L'Arc« with Pencil Holder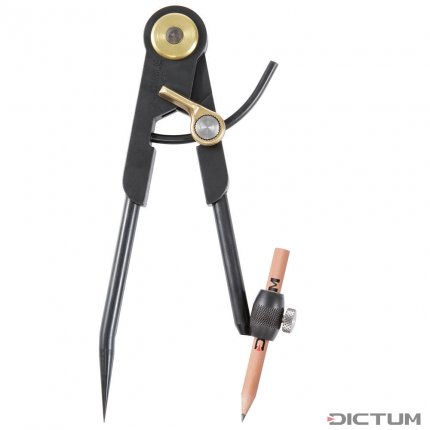 Comes with DICTUM pencil.
Since as far back as the Middle Ages, the compass has been resplendent on the emblem of the carpenters' guild along with the square and the plane. Because the wing compass allows secure locking of the set measurement, it is considered an improved version of the older dividers. Our French model combines a simple design with functional materials. With legs of gunmetal finished and therefore rust-protected steel, brass hinge and lever for adjustment, hardened tips. In this day and age only a few tradespeople still know the value of a compass. It allows you to evenly divide distances like no other tool (often quicker than a pocket calculator), construct ovals and ellipses, and determine aesthetic proportions based on the »golden ratio«.
more
less
Shaft length

160 mm

Max. opening

180 mm
Discover product in our flip catalogue:

Ready to ship today, delivery time 2-3 workdays within Germany
€40.90

per piece(s)
Prices incl. VAT