Very high-quality professional lathe characterised by excellent performance, quality, comfortable...

Very high-quality professional lathe characterised by excellent performance, quality, comfortable handling and long service life. This heavy, sturdy machine is entirely made of vibration-minimising and warp-resistant cast iron. The solid headstock is designed to travel up and down the entire length of the precision-milled lathe bed. Thanks to double clamping levers, the headstock always stays perfectly and securely in place and guarantees precisely aligned tips. Three belt pulleys ensure maximum torque at any speed (40-3500 rpm). Fine adjustment of the speed via a frequency converter. The low-wear, durable poly-V pulley system with 10 grooves provides ultra-smooth running. The safety spindle lock makes it easy to remove faceplates and chucks.
Brackets secured to the headstock and tailstock for copy work enable visual and dimensional comparison.
A catcher that can be folded over the workpiece ensures additional work safety with large or heavy pieces.
A vacuum chucking facility (incl. chuck), which operates using a compressor (not supplied) to generate the vacuum via a venturi connection, comes with the machine as standard.
A control panel with on/off switch for spindle and vacuum, a speed regulator, a reverser (clockwise/anti-clockwise), an LED speed display in rpm, a vacuum manometer and an additional, movable magnetic emergency-stop button guarantee maximum ease of use.
Technical specifications:
Height of centre over bed 305 mm
Distance between centres 1067 mm
Speed ranges 40-910, 80-2000 / 140-3500 rpm
Hollow spindle Ø 35 mm (spindle hole 16 mm, #2 MT inner cone) with M33 x 3.5 DIN 800 thread
Spindle indexing 4 x 25.7° / 36 x 10° / 48 x 7.5°
Tailstock with 9.5 mm drill hole and #2 MT quill (115 mm travel) and measuring scale
Motor 2.2 kW (3 hp)
Motor rating 230 V
Length 1730 mm
Width 710 mm
Height 1650 mm
Weight 395 kg
Basic configuration:
Tool rest 350 mm with 1 inch pin and tailstock with eccentric clamp
#2 MT four-tooth spur driver Ø 25 mm
75 mm faceplate
#2 MT revolving centre
vacuum chuck and connections
Compressed air pistol with hose
Catcher
Support for sample pieces with centring pin
Knockout rod with brass tip
Operation tools
Solid grey cast iron leg stand
Comes with English and German instructions
more
less
Powermatic

Powermatic, the »gold standard« in woodworking machinery.
What makes Powermatic the gold standard?
With over 90 years of experience in the industry, Powermatic builds high-quality machines. Even in industrial use, Powermatic machines guarantee precision and durability.
Robust and durable
With its cast iron and welded steel machines, Powermatic is renowned for its heavy-duty construction. The superb build quality gives the machines strength and rigidity but also provides a stable platform for accurate work.
Innovation
From the Accu-Fence on the bandsaw to the Feed-Logic on the drum sander, Powermatic focuses on innovations that not only improve your work but also increase safety and ease of use.
Attention to detail
Powermatic machines are planned down to the finest detail. The chrome-plated hand wheels and immaculate paintwork exude quality and style.
High performance
Powermatic builds machines with high-performance motors equipped to deal with the most demanding woodworking tasks.
5 year manufacturer's warranty included.
Discover product in our flip catalogue:

If you buy a lathe from DICTUM, you can choose between a voucher for free participation in a one-day workshop of your choice or a discount of €100 for a multi-day workshop. The voucher amount cannot be set off against the purchase of products.
Freight forwarding goods - Delivery time 3-5 workdays within Germany.
For delivery worldwide please contact our customer service at +49 (0)9931 4058-902.
€6,253.00

per piece(s)
Prices incl. VAT

Accessories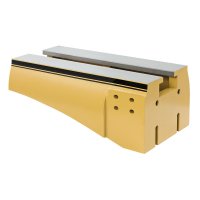 Expands the lathe bed by 500 mm (20 inches). When used as a faceplate, the centre height is increased to 610 mm. The additional weight of 52 kg gives the lathe even more mass and stability. Fits Powermatic 4224B lathe. Incl. extension...
incl. VAT plus shipping costs
Article No. 720662
Solid cast construction with 25.4 mm (1 inch) posts. The curved support enables work to be carried out close to the workpiece during bowl turning. Right-handed version.
incl. VAT plus shipping costs
Article No. 720663