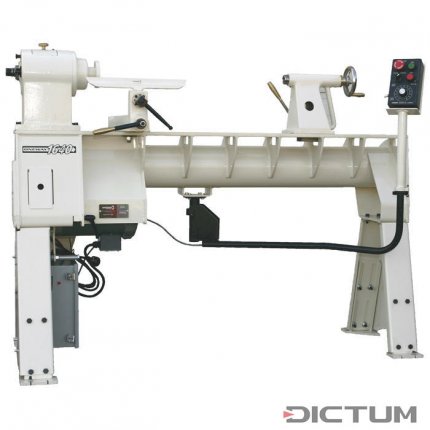 Medium-weight professional lathe with external turning option for universal use. Good value for money. The vertically adjustable base frame with torsion-resistant bed is very heavy and optimally absorbs vibrations. On the outboard spindle you can work smoothly on big bowls. The patented clamping mechanism makes it easy to lock the tool rest and tailstock into position without a key.
Specifications:
Height of centre over bed 203 mm
Distance between centres 1016 mm
Two speed levels, variable speed 14-700 / 51-2585 rpm
Hollow spindle (#2 MT inner cone) with M33 x 3.5 DIN 800 thread, three spindle bearings
Spindle indexing 48 x 7.5°
Tailstock #3 MT quill (100 mm travel) and measuring scale
Three-phase motor 1.5 kW (2 hp)
Motor rating 230 V
Gentle ramp up/down
Switch unit with toggle switch (anti-clockwise/clockwise rotation)

Working height/axis centre adjustable from 1066-1168 mm in 25 mm steps
Length 1524 mm
Width 793 mm
Weight 272 kg
Basic configuration:
Cast iron tool rest base with patented clamping mechanism
Cast iron tailstock
Steel faceplate Ø 101 mm
Tool rest of globular cast iron 355 mm
Oneway #3 MT live centre system
Oneway #2 MT drive centre with thrust bearing and cutting ring
Knockout rod
Comes with German and English instructions
Oneway
Fitted with the latest technology, these high-precision lathes manufactured in Canada guarantee a long life and are a pleasure to use. The innovative design combines the benefits of cast materials and the advantages of stable welded-steel constructions.
more
less
Oneway

Engine power

1.5 KW (2 hp)
5 year manufacturer's warranty included,2 years on motor and frequency converter.
Discover product in our flip catalogue:

If you buy a lathe from DICTUM, you can choose between a voucher for free participation in a one-day workshop of your choice or a discount of €100 for a multi-day workshop. The voucher amount cannot be set off against the purchase of products.
Freight forwarding good - Availability and delivery time upon request.
For delivery worldwide please contact our customer service at +49 (0)9931 4058-902.
€4,369.00

per piece(s)
Prices incl. VAT

Accessories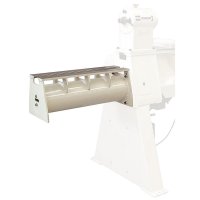 Long bed extension for 1625 mm between centres and a centre-over-bed height of 304 mm. Comes with tool rest with extended length posts. Fits No. 705554 .
incl. VAT plus shipping costs
Article No. 706533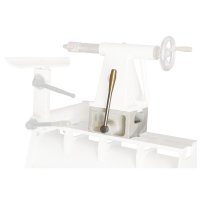 The 100 mm tailstock riser allows safe turning between centres on the lower bed extension No. 706533 . Fits No. 705554 .
incl. VAT plus shipping costs
Article No. 706534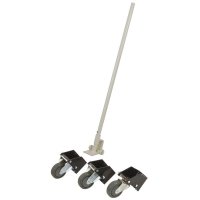 Two fixed wheels and one for steering. The wheels are only intended for moving the lathe - they must be removed when turning.

incl. VAT plus shipping costs
Article No. 706535