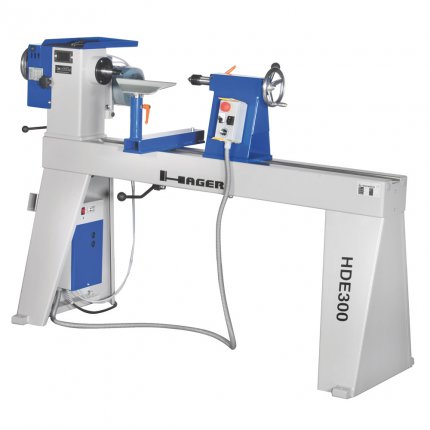 The universal lathe for large and heavy workpieces. The underframe made of thick-walled steel provides additional torsional resistance and maximum stability, even for large workpieces. The spindle has an extra-long bearing distance from the lathe bed and is additionally set off towards the front for ergonomic turning. The cavities in the machine base as well as a case in the lower frame are filled with quartz sand, for additional weight and stability. An infinitely adjustable, electronic speed controller with digital speed display ensures maximum torque at every speed. Optional gentle ramp up/down. A brake resistor guarantees short deceleration times. A safety switch at the belt door prevents the machine being started unintentionally during a belt change. The rotating headstock also allows turning of large bowls while standing directly in front of the workpiece. The tool rest and tailstock are tightened using a keyless eccentric clamp. Exact spindle alignment, high repeat accuracy.
Technical specifications:
Height of centre over bed 300 mm
Distance between centres 1000 mm
Speed ranges 100-450 / 300-1100 / 750-2700 rpm
Digital speed display
Hollow spindle Ø 20 mm (#3 MT inner cone) with M33 x 3.5 DIN 800 thread and 4 bearings without backlash, incl. chase guard
Tailstock with #3 MT quill (150 mm travel) and measurement scale
Face-milled lathe bed
Underframe filled with quartz sand for additional damping of vibration
Three-phase motor 400 V / 1.5 kW (2 hp)
Power plug either 230 V or 400 V
Working height/axis centre 1110 mm
Length 1815 mm
Width 660 mm
Height 1225 mm
Weight 276 / 302 kg
Basic configuration:
Tool rest 300 mm with 30 mm pin diameter
Eccentric clamp for tool rest and tailstock
#3 MT four-tooth spur driver Ø 24 mm
#3 MT revolving centre
Movable magnetic switch unit with toggle switch (anti-clockwise/clockwise rotation), potentiometer and emergency off
Knockout rod
Comes with German operating instructions
more
less
HAGER

With over 40 years of experience in the production of woodturning lathes, the German company HAGER has become one of the leading manufacturers. HAGER offers tailored special solutions in the field of woodturning, and stands for high-quality, functionally well thought-out products. The turning lathes are produced in accordance with DIN standards, and the long-term supply of spare parts and accessories is guaranteed. All accessories are compatible with all models.
Distance between centres

1000 mm
2 year manufacturer's warranty included.
If you buy a lathe from DICTUM, you can choose between a voucher for free participation in a one-day workshop of your choice or a discount of €100 for a multi-day workshop. The voucher amount cannot be set off against the purchase of products.
Freight forwarding good - Availability and delivery time upon request.
For delivery worldwide please contact our customer service at +49 (0)9931 4058-902.
€4,658.00

per piece(s)
Prices incl. VAT