Arkansas Multiform Slipstones, 4-Piece Set, White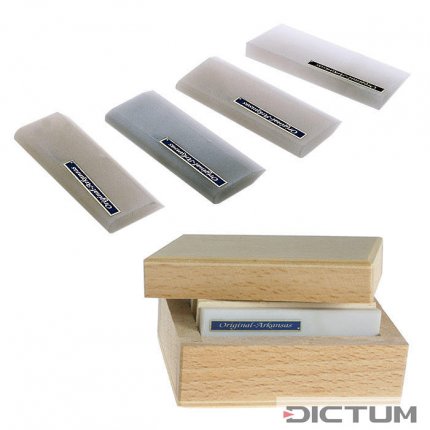 The white Arkansas stones have a slightly lower density than the black ones.
In a wooden case. Flat-pointed straight back, flat-pointed round back, knife-shaped, flat-skewed rounded back. Translucent Arkansas (Extra fine).
58 x 23 x 6 mm.
Arkansas Oil Stones
Fine-grained, extremely wear-resistant honing stones, for use with an oil lubricant. Due to their high degree of hardness particularly well-suited for polishing curved cutting edges. The sharpening stones we offer have a uniform structure and are crack-free. The black stones are slightly harder than the white stones. They originate from quarries in the Ouachita Mountains in Arkansas (USA), that unfortunately are almost depleted.
Quality of Natural Stones
For many years, the Belgian coticule and Arkansas stones have been synonymous with high-quality whetstones. But these stones are natural products. Due to limited resources, the quality of these stones may increasingly vary. Japanese waterstones with fine grain structures are recommended as an alternative.
more
less
Discover product in our flip catalogue:

Ready to ship today, delivery time 2-3 workdays within Germany
€35.90

per piece(s)
Prices incl. VAT