Bertl Haferl Workshoe, Wide Design, Size 41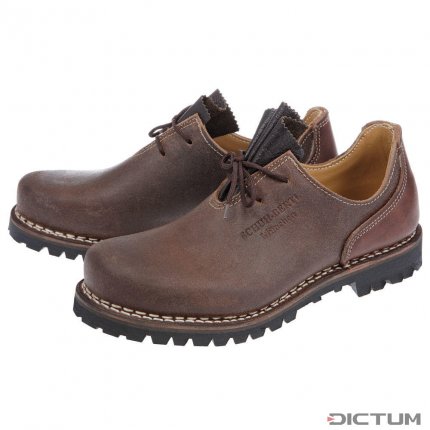 This robust, double-stitched Haferl workshoe provides everything a workshoe needs. Its very square shape, achieved by using wide shoe trees, provides enough toeroom even when kneeing. The fit is perfect for wide feet. A rear cap, sewn on from the outside using traditional techniques, provides additional heel protection. The shoe is made from 3 mm thick, greased Russia leather, which is almost fully waterproof. This thick material allows the shoe to be laced without eyelets, giving it an elegant lightness.
The flesh side on the outside makes it possible to remove even deep scratches by simply roughen the upper leather, which is made out of one single piece
Vegetable tanned insole for optimal comfort (suitable for allergy sufferers)
Profiled outsole with a high percentage of Indian rubber (similar to a climbing shoe) for strong grip
Completely leather lined!
Lacing in the middle with 100 % cotton shoelaces
When trying the shoe, your heel should be approx. 1 cm (finger width) away from the rear of the shoe, with your toes touching the very front.
Double-Stitched Style
In shoe-making, the word »style« describes the join between the top and the bottom of the shoe. »Double-stitched« is the most robust style, traditionally used for climbing boots. In this technique, after finishing the first stitching, the upper shoe leather is curled up and sewn to the midsole. Turning the leather provides stronger protection against moisture. Double-stitching makes shoes particularly robust.
The German Haferl Shoe
Haferl shoes are robust workboots worn by mountain farmers, hunters and forest workers. The so-called »Schiffchen« (square shape with high front) provides more toeroom when going downhill.
more
less
Bertl Schuhmanufaktur

Bertl Shoemaker's Shop uses traditional shoemaking techniques to produce shoes of exceptional quality and durability. Bertl focuses on traditional production technologies and the use of high quality materials. You can feel the results directly on your feet, even after years of wear. Bertl will replace any individual component at any time, providing uncompromising quality at low costs. Bertl shoes are made from 100 % German materials and entirely manufactured in Munich.
Ready to ship today, delivery time 2-3 workdays within Germany
€249.00

per pair(s)
Prices incl. VAT