Carter and Son Aluminium Adapter, Ø Shaft 9.5 mm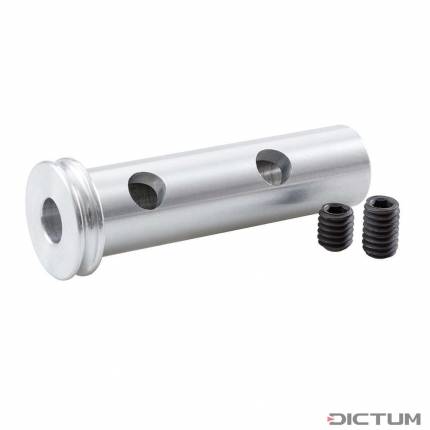 Suitable for gouges with shaft diameter 9.5 mm.
Aluminium adapter for connecting Carter and Son woodturning gouges and handles.
more
less
Carter and Son Toolworks
Carter and Son Toolworks is a family-owned company located in the US. David Carter is an enthusiastic woodturner whose love for good tools led him to make his own woodturning tools. The quality and handling of his products were so convincing that they quickly gained a foothold in the market. The tools are made of M42 HSS, which was originally developed to meet the requirements of metal processing. Due to their hardness, which is similar to tungsten carbide, the tools can deal with hard woods and composite materials. Their edge-holding capacity and the quality of their cutting edge, which is typical for HSS, is due to the high proportion of cobalt (about 10 %).
The aluminium handles (aluminium alloy 6061) provide excellent feel, stability and vibration resistance, offering a good counterbalance to the cutting forces, especially with large objects. All Carter tools are compatible with all Carter handles using an adapter. The tools are ground and ready to use on delivery.
Carter and Son Toolworks offer a lifetime warranty on material and manufacturing defects.
Ready to ship today, delivery time 2-3 workdays within Germany
€21.30

per piece(s)
Prices incl. VAT