Ring Kit, Width 11 mm, Ring Size 54
Ring width 11 mm (13 mm finished).
Assembly kit for a finger ring made of surgical stainless steel, also suitable for those who suffer from nickel allergies. Rings made of turned wood have limited stability. With a stainless steel body, wooden rings can withstand virtually all types of stress. Also suitable for many other materials. The inner surfaces of the three-part ring assembly kit are rounded to ensure greater wearing comfort. The specified width relates to the width of the middle piece. Thickness of the finished ring approx. 2 mm.
Comes with German and English instructions.
Ring size
Ordered size =
inner circumfence
Inner diameter
54 mm
17 mm
56 mm
18 mm
58 mm
18,5 mm
60 mm
19 mm
62 mm
20 mm
64 mm
20.5 mm
66 mm
21 mm
more
less
Discover product in our flip catalogue:

Ready to ship today, delivery time 2-3 workdays within Germany
Quantity
Unit price
To

9

€9.70 *
From

10

€9.40 *
From

20

€9.20 *
From

30

€8.90 *
Accessories
Ring assembly kits can be easily and securely clamped thanks to this clamping nut. A matching clamping size exists for every size of ring. The ring assembly kit is placed on the clamping nut and this is mounted on the lathe with the aid...

incl. VAT plus shipping costs
Article No. 702390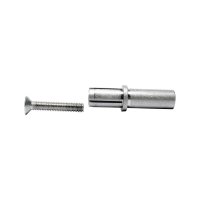 Clamping mandrel for mounting ring assembly kits on the lathe with the aid of a clamping chuck or drill chuck. To be used in combination with the matching clamping nut (No. 702390 -96) according to the ring size.
incl. VAT plus shipping costs
Article No. 702397