Veritas Spokeshave, Rounded Sole, PM-V11 Blade

PM-V11 Steel
PM-V11 steel is made from a new, powder metallurgy steel alloy. With its ultra-fine and homogeneous material structure and extreme hardness (HRC 61-63), this steel has double the edge-retention capacity of A2 steel. The extremely hard-wearing blades allow a razor-sharp edge and are highly durable even at a bevel angle of less than 20°. All blades come with a 2° microbevel and can be sharpened on conventional waterstones.
For fine shavings when working on flat and long curved surfaces such as bows, boats, slats, planks and edges. Because they are guided by hand and are sensitive to the wood structure, spokeshaves must have hefty bodies and thick cutting blades (3.2 mm). The blade can be adjusted with knurled screws, the mouth opening with supplied shims. The radius of the round version is 44 mm, while the concave version has an inside radius of 33 mm.
Veritas Planes
The corporate philosophy of Canadian tool manufacturer Veritas aims to develop new adjustment mechanisms and enhance historic plane design. With bodies made of stress-relieved spheroidal cast iron, these tools are highly resistant to cracking and distortion. Their soles are perfectly plane and trued at right angles to the sides. Their thick blades of high-strength A2 steel are hardened to 60-62 HRC and additionally subjected to a special low-temperature process to achieve a finer grain. Veritas planes are optionally available with PM-V11 blades. (The Custom series models are equipped with PM-V11 blades as standard). Two setscrews on the sides constrain the blade laterally, keeping it in place regardless of the type of stress applied. Unless otherwise stated, the blade is angled at 45°. With their material combination of finely-ground or black-coated cast iron bodies, polished brass setscrews and beautiful precious wood handles, these planes are also pleasing to the eye.
more
less
Veritas

Blade material

PM-V11

Blade width

54 mm

Blade thickness

3.2 mm

Overall length

270 mm

Weight

330 g

Sole

rounded
Discover product in our flip catalogue:

Ready to ship today, delivery time 2-3 workdays within Germany
€95.00

per piece(s)
Prices incl. VAT

Accessories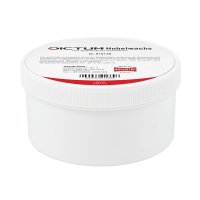 The DICTUM wax for planes is not only used to prevent metal planes from rusting with long-lasting effect, but also reduces the friction between the plane sole and the workpiece. The application of stains, oils & lacquers is not affected....
(Content: €3.56 / 100 ml)
incl. VAT plus shipping costs
Article No. 810149
Replacement parts

incl. VAT plus shipping costs
Article No. 703686
incl. VAT plus shipping costs
Article No. 727573