Schröckenfux Styria-Scythe with Stone Tip
Traditional Austrian scythe shape
Due to the comparably flat blade with a length of 650 mm and the relatively strong curvature of the cutting edge, this scythe works very smoothly and is easy to guide. This type of scythe is therefore suitable for beginners and people who want to scythe with little effort. The specially shaped stone tip protects the cutting edge from accidental contact with stones and is therefore particularly suitable for stony soils. The S-shaped ash snath ensures an optimal body position when mowing. It is adjustable for height (155-185 cm) and body position. Peened and sharpened ready for mowing; instructions are included.
more
less
Schröckenfux
Schröckenfux, a company from the Austrian Krems Valley, is one of the last scythe makers in Central Europe. For over 450 years, carbon steel blanks have been shaped to elegantly curved, razor-thin scythe and sickle blades.
Blade width

55 mm

Blade length

650 mm

Overall length

153 cm

Body height

155-185 cm
Discover product in our flip catalogue:

Ready to ship today, delivery time 2-3 workdays within Germany
Surcharge for bulky goods.
€129.00

per piece(s)
Prices incl. VAT

Replacement parts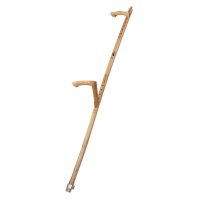 Optimal body positioning for mowing via adjustable handles and S-shape. Fits Schröckenfux and all standard scythe blades. Made from ash. Snath cross-section 26 x 30 mm.

incl. VAT plus shipping costs
Article No. 705609
incl. VAT plus shipping costs
Article No. 707782
incl. VAT plus shipping costs
Article No. 712965