KME Sharpening System, DICTUM Kit

The KME sharpening system combines a robust construction with high functionality. The sharpening process is quite simple and you hardly need any previous knowledge or experience.
Stepless grinding-angle adjustment allows for cutting angles of 17-28°
A 180° rotating knife clamp ensures that both sides are evenly sharpened
No limits for right- or left-handers
The system can be held by the pistol-shaped handle for mobile use or slotted into the base
Robust components made of metal, plastic and cherry wood
Rubberised knife clamps protect the blade from scratches
Maximum blade length: 16 cm
This set is ideal for sharpening kitchen and outdoor knives, based on a standard sharpening process with a 1000 / 6000 combined waterstone. Includes the KME base, which allows one-handed working. With the stone thickness compensator, you can easily even out abrasives with different thicknesses, so that the same grinding angle can be kept throughout the sharpening process. The included Sinensis camellia oil protects newly sharpened carbon-steel blades against rust. It is also food-safe, so you can also use it for kitchen knives.
Scope of delivery
Accessory Base (No. 720431)
Diamond Sharpening Stone, Grit 140 (No. 720436) / 300 (No. 720437) / 600 (No. 720438) / 1500 (No. 720439)
Stone Thickness Compensator (No. 720433)
Sinensis Camellia Oil (No. 705280)
Cleaning cloth
Robust carrying case
more
less
DICTUM

Most of the products we sell as a trading company we produce ourselves. Our brand Herdim has been synonymous with musical instrument making products for more than 100 years. Our design department staff devises our products from scratch - from simple component drawings for the development of hand tools to complex component groups in the field of power tools. All materials such as cutting steels, casting materials or handle materials are selected according to their intended use and produced according to our specifications. If possible, we produce the components for our tools ourselves. Complex manufacturing processes (casting, deep drawing, forging, lasering) are carried out by specialised companies. We monitor the processes and carefully check the finished components. We carry out the final assembly of the individual components, as well as the cutting of wood and the bottling of finishing agents ourselves. Our brands include products for musical instrument making (Herdim), as well as tools and machines (DICTUM). Further DICTUM brands include: Sinensis, Lignea, Kunsuto, RosinLegnin, Robusuta, Shinko…
Discover product in our flip catalogue:

Set consists of the following articles:
Ready to ship today, delivery time 2-3 workdays within Germany
€319.00

per piece(s)
Prices incl. VAT

Replacement parts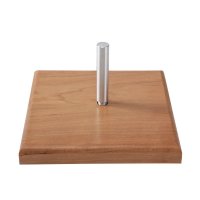 The KME sharpening system is easily fitted onto this base, allowing you to work with one hand. The base, made of solid, varnished cherry wood, is extremely stable due to the four rubber studs on the underside. Fits KME sharpening system...
incl. VAT plus shipping costs
Article No. 720431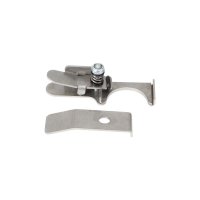 Due to the production process, the different abrasive types of the KME sharpening system may vary in thickness. This causes the bevel angle to change slightly on transition from one abrasive to the next. The stone thickness compensator...
incl. VAT plus shipping costs
Article No. 720433
Self-adhesive diamond abrasive for polishing knife blades. Fits the KME sharpening system. 5-piece set. Dimensions 100 x 25 mm.

incl. VAT plus shipping costs
Article No. 720995