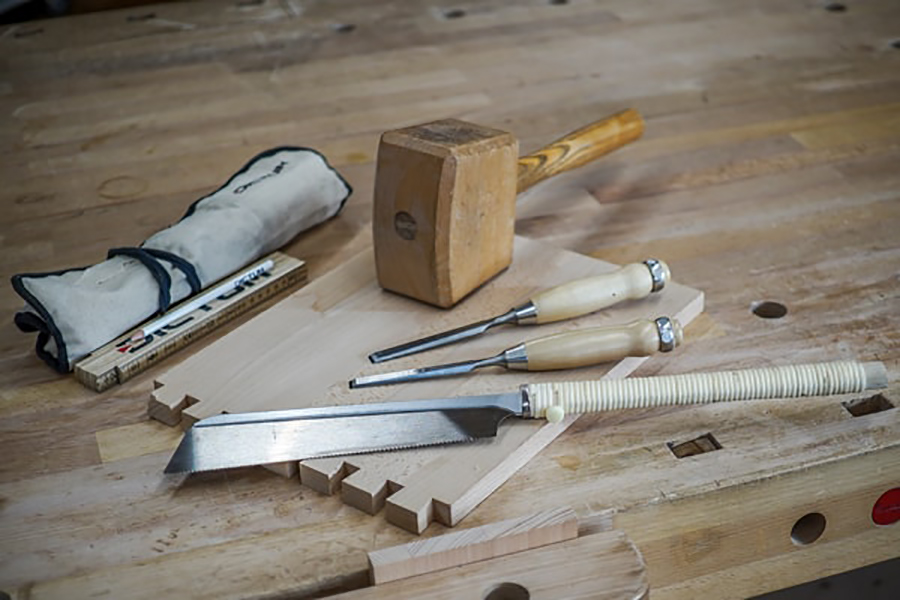 What beginners to woodworking should have
Everyone who discovers woodworking for themselves will at some point ask themselves the question: "What tools do I need?". A simple answer to this is difficult. It depends entirely on you and your individual intentions. You should rather ask yourself the question, "What do I want to make?".
If you initially want to implement simple ideas, a relatively small selection of tools will suffice. Divide your project into three sections to make the tool list more concrete.
Marking out
For marking out, you need at least an accurate metre rule, a precise square and a sharp pencil. This is basically enough to get you started. If you intend to make classic wooden joints such as dovetail tines yourself, you will need to be able to transfer different angles accurately. The best way to do this is to use a bevel. When marking parallel lines and transferring depth measurements, a moulding rule is very helpful. These are exactly the scribing tools that a professional has in his toolbox.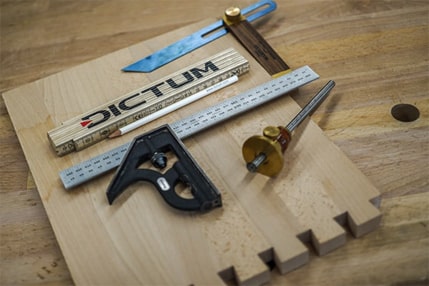 Equipment for marking out
| Minimal equipment for marking out | For marking out timber joints |
| --- | --- |
| Metre Rule | Additional |
| Square | Marking Gauge |
| Pencil | Bevel |
Formatting
When carpenters talk about "formatting" they do not mean deleting data from the hard disk, but cutting boards and panels to a given size. In the beginning, beginners certainly work with already cut wooden boards and planed laths. To cut these to the desired final dimensions, a good hand saw is usually sufficient.
A Ryoba, for example, is an excellent tool for cutting mouldings and boards manually. The Ryoba is a Japanese saw whose blade is toothed on both sides - one side is ideal for lengthwise cuts, the opposite side for cuts across the wood grain. If you want to cut panel material yourself, you can use a hand-held circular saw or plunge-cut circular saw with guide rail to precisely format even larger furniture pieces.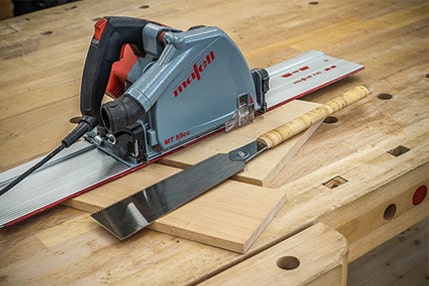 Equipment for formatting:
✔ Hand saw, e.g. Ryoba, for mouldings, boards and beams
✔ Hand-held circular saw with guide rail for panel material
Joining
There are many options for joining wood-based materials. Many beginners start with simple connections using wooden dowels. All you need is a drill or cordless screwdriver and a suitable wood drill bit. A dowel template makes it much easier to position the holes accurately.
If you are creative and more daring, you can try the classic wooden joints. To make joints such as mortise and tenon or prongs, you need a saw for fine cuts, two to three sharp chisels and a hammer or mallet. A Dozuki Universal, for example, is very suitable as a versatile saw for wood joints. The saw blade of the Dozuki is reinforced by a spine and is therefore thinner and finer than that of a Ryoba.
When choosing chisels, the question "What do I want to do?" comes into play again. For chiseling slots, you need a relatively narrow chisel of 6 to 10 mm width. For finger prongs and dovetail joints, an iron between 12 and 20 mm. And for working on larger surfaces, such as when chiseling overlaps or finishing tenons, a wider chisel between 22 and 30 mm is a sensible purchase.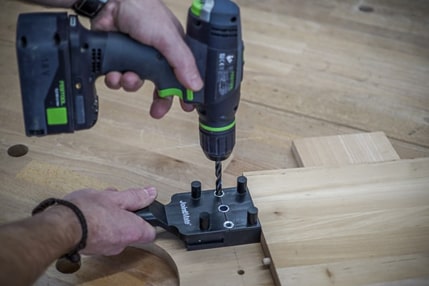 Important tools for joining
Basic equipment for doweling:
✔ Drill or cordless screwdriver with wood drill bits (6, 8 and 10 mm).
✔ Optional dowel template
Basic equipment for classic wood joints:
Finally, a versatile plane should not be missing from your tool set. There is no such thing as a universal plane, but for cleaning wood joints, planing chamfers and smoothing edges, a good one-handed plane will do for a start. You will certainly venture into more elaborate projects as you gain experience and expand your tool and machine equipment accordingly. The tools mentioned are good basic equipment.
Whatever you want to build, at DICTUM you will find high-quality tools that you will enjoy for a long time. Our practical handicraft courses make it easy for you to get started in creative woodworking