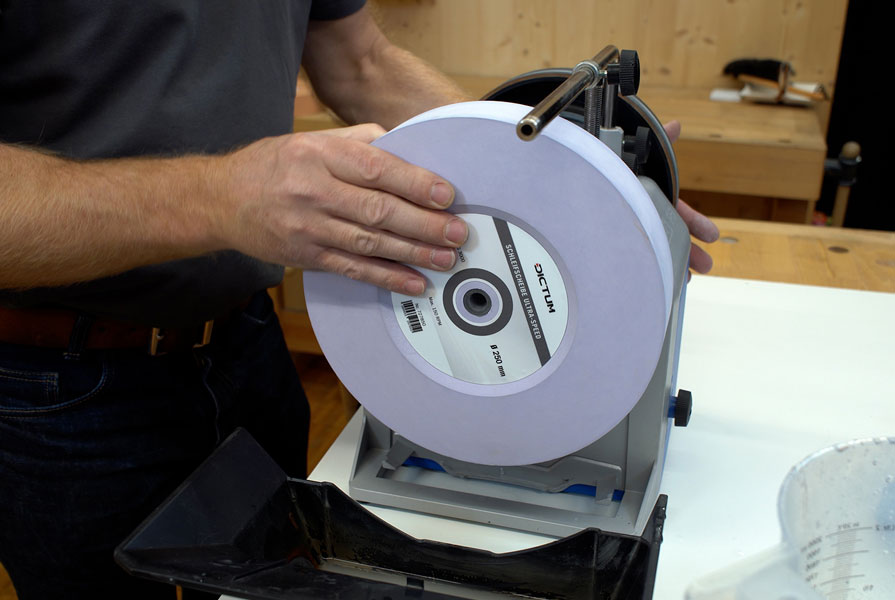 For wet sharpening machines, in addition to the usual replacement wheels, there are also grinding wheels with other grit levels and different abrasives. By choosing suitable grinding wheels, you can speed up the grinding process and optimize the grinding result.
When should the grinding wheels be replaced?
The smaller the diameter of the grinding wheels becomes, the more pronounced the hollow grinding on the cutting bevel becomes. If the hollow is very deep, the cutting edge is weakened and loses its stability. The service life of the cutting-edge decreases and chipping occurs more frequently. In addition, the grinding speed decreases as the diameter decreases. The grinding process takes longer and longer. For wet grinding machines, we therefore recommend replacing the grinding wheel as soon as its diameter is smaller than 150 mm.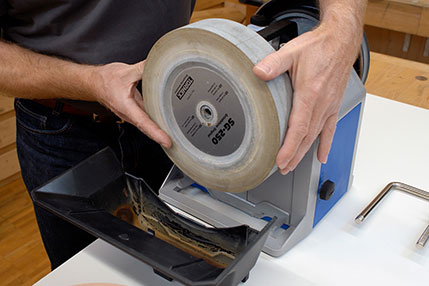 Replacing the grinding wheels on wet grinding machines is usually simple.
What is the advantage of different grit levels?
The grit level of the grinding wheels supplied is usually around 220 grit. For example, the grindstone on Tormek wet grinders can temporarily simulate a finer grit level of approx. 1000 by use of a so-called stone conditioner. The grit is not actually increased, but the abrasive crystals are only softened in their aggressiveness and sharpness. This makes the grinding pattern appear finer, but the grinding or polishing takes a little longer and the wear of the stone is significantly increased.
Grinding wheels with different grits, in contrast, always work effectively and provide a consistent grinding pattern. Purchasing and changing different grit levels — from coarse to medium to fine — is particularly worthwhile if many tool edges are regularly ground.
Are there alternatives to the grinding wheels supplied?
In the following we would like to introduce a few grinding wheels as an alternative or supplement to the conventional grinding wheels from Tormek, Record Power, Jet and Co.
DICTUM® Ultra-Speed grinding wheels in three grit sizes
For the DICTUM Ultra-Speed Grinding Wheel (Grit 220, Grit 1000, Grit 3000) we use single crystal aluminium oxide manufactured in Germany, one of the most effective ultra-fine abrasives on the market. Use it to grind double-layered blades, chrome/vanadium steels and HSS. With a stone diameter of 250 mm, the Ultra-Speed grinding wheels fit numerous wet grinding machines from well-known manufacturers such as Tormek, Record Power or Jet. In extensive tests with microscope images, we have optimized the composition of the grinding wheels to achieve the best compromise between a fine grinding pattern and fast grinding debris. With Ultra-Speed grinding wheels, you will grind faster and obtain a finer grinding pattern than with conventional grinding wheels of the same grit size.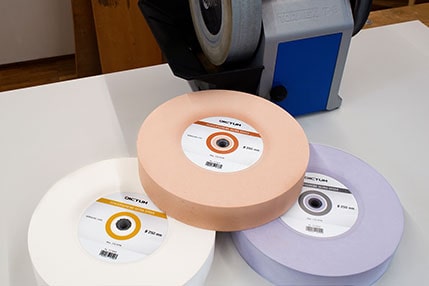 Ultra-Speed grinding wheels from DICTUM® in grit sizes 220, 1000 and 3000.
Grinding wheel for coarse grinding
The DICTUM Grinding Wheel Carbon Cut has the right coarse grit for coarse grinding in the manufacture of cutting tools (knife making, making your own planes, etc.) and for repairing damaged cutting edges. The 80 grit aluminium oxide used as the abrasive ensures rapid grinding debris on double-layered blades and carbon steels.
Grinding wheels for woodturning tools and HSS
The black silicon carbide of the DICTUM Black Carbide Grinding Wheel is particularly suitable for hard materials such as HSS but also carbon steels. Especially woodturners appreciate the fast grinding debris as well as the long lifetime of the abrasive.
Fine discs with 200 mm diameter
For wet grinding machines with 200 mm stone diameter like Tormek 1200-1206, T-3 and T-4 we offer this DICTUM Japanese Grinding Wheel with grit 1000 (716040). It is suitable for sharpening HSS as well as carbon steels and double-layered steels. Its hard bond ensures a high polishing effect with low grinding debris.
What are the advantages and disadvantages of so-called diamond grinding wheels?
Grinding wheels with a coating of industrial diamond or CBN (cubic boron nitride) usually have a solid cast body that offers high concentricity. These grinding wheels are always flat and do not need to be dressed after sharpening. Diamond or CBN abrasive grains wear much more slowly than conventional abrasives, but they are also subject to a certain amount of wear — diamond grinding wheels do not last forever either. Compared to diamond, CBN is somewhat more robust and less sensitive to temperature. It is therefore more suitable for grinding hardened steel.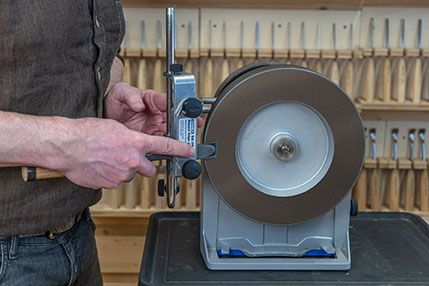 The DICTUM® Black-Crystal grinding wheel B54 is also coated with CBN on the side.
Thanks to the additional grinding surface on the side, you can grind a straight bevel without hollow grinding on tool cutting edges with Tormek diamond grinding wheels (Grit 1200, Grit 600, Grit 360). To achieve this, you also need the Tormek Multi Base MB-100 with the appropriate grinding device for the tool in question. With Tormek diamond grinding wheels, we recommend that you always grind wet, as this prolongs the life of the wheel and provides a smoother surface. However, you can also grind dry with the Tormek diamond wheels.
With the DICTUM CBN Grinding Wheel Black Crystal, in contrast, you can grind permanently without water or coolant. This saves time and keeps the workplace dry. The DICTUM CBN Grinding Wheel Black Crystal B54 also offers a lateral coating so that you can also use it to grind a straight bevel on cutting edges.