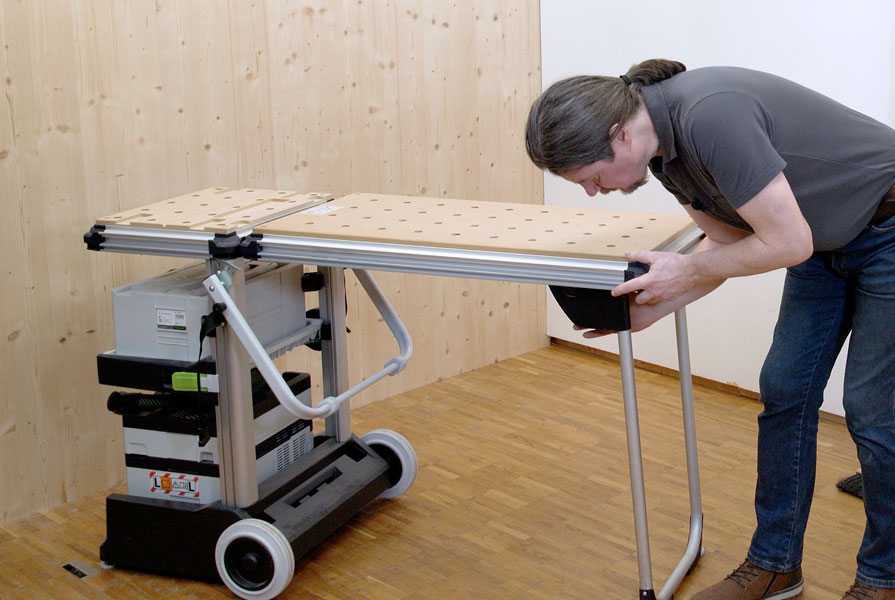 There are many reasons to set up a mobile workshop. For example, if you want to set up your workshop in the garage or in a small cellar compartment, you can usually only use the available space temporarily. Even for assembly work, the workplace is only needed on site for a short time.
Advantages of a mobile workbench
More possibilities. A workbench on castors can be moved at any time. This increases its possibilities of use enormously. It can be placed in the workshop more easily where it is needed.
Better accessibility. For many activities, it is an advantage if the workpiece can be reached from all sides. If the workbench is freestanding in the room, this makes it much easier to work on surfaces or assemble larger pieces of furniture, for example.
Real spontaneity. If the workshop is a bit out of the way or has to be set up awkwardly first, it is sometimes difficult to start working. If, on the other hand, the workplace can be set up and dismantled quickly, it is worthwhile to start or continue a small project on the spur of the moment.
Tools always at hand
Set up a toolbox with the tools you use most often. It doesn't have to be that big. A small box containing your favourite tools will always find a place in your home, cellar or garage, and is easier to transport than a large box with all your tools and machines crammed together. The Systainer with DICTUM Tool Carrier II, for example, offers practical basic equipment in a small space. It contains a basic assortment of hand tools for all carpentry and interior finishing tasks. This basic equipment fits perfectly under a workbench if you install a shelf for it on the lower crossbars.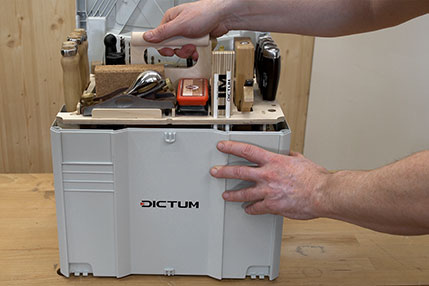 All tools compactly stored and always at hand in the Systainer
Pack a bag
If you like to work with your own tools wherever you go, for example on holiday, at the weekend house or at a workshop, you can conveniently store a selection in a tool bag. Bags are a little more flexible and comfortable to carry than boxes or Systainers. Our shoulder bag is suitable for Japanese saws. Carving tools and chisels can be stored in a tool roll to save space. And (hobby) cooks can also safely transport their favourite knives in a knife roll made of premium leather.
Workbench on castors
To have a secure stand, good workbenches are solid and heavy. This makes them difficult to move. It is therefore a good idea to put your workbench on castors. But be careful! The castors must be designed for the load – otherwise they will quickly break. Simply screwing heavy-duty castors under a planing bench is not a good solution. Even if all the castors can be blocked with brakes, the planing bench will no longer stand stably and will wobble when planing or mortising. To stand securely and firmly, the castors should be able to be folded down so that the workbench stands on its own feet again.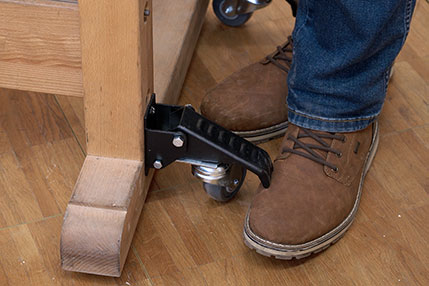 Once the castors are folded away, the workbench is stable again.
With the workbench caster kit, you can move a normal workbench freely around the workshop - alone. You can simply fold the castors away with one foot so that the workbench stands firmly on its base again.
Kitchen table as workbench
You can turn almost any table into a workbench with an add-on vice. Simply attach the vice to a sturdy tabletop with two or three clamps, and you have a solid clamping option for small to medium-sized projects. If you have the option, you can screw the attachment tongs onto a workbench or worktop and thus add a permanent vice to your workplace.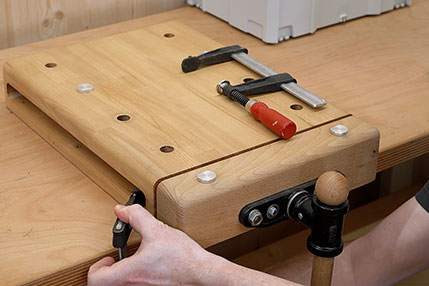 An add-on vice is quickly mounted, e.g. with screw clamps.
Professional solution for mobile working
With the MW 1000 mobile workshop, Festool offers a professional solution for mobile working. The MW 1000 is a modular transport and work station that can be conveniently pushed or pulled like a "dolly". During transport, the Mobile Workshop runs on two large, rubberized wheels, which can also be used to pull it over steps. When set up vertically, the MW 1000 stands securely on its feet. The MW 1000 offers several compartments for Systainers with T-Lock, so that power tools and even the compact Mobile Dust Extractor Cleantec CTL SYS can be transported in it. It is compatible with the Festool Multifunction Table MFT/3. At 900 mm, the MW 1000 offers the same working height as an MFT/3, and accessories such as the MFT-SP clamping elements can also be used in the perforated grid of the worktop. And vice versa, the Festool TSB/1-MW 1000 base table can also be mounted on the MFT/3.
MORE BLOG POSTS ON THE TOPIC