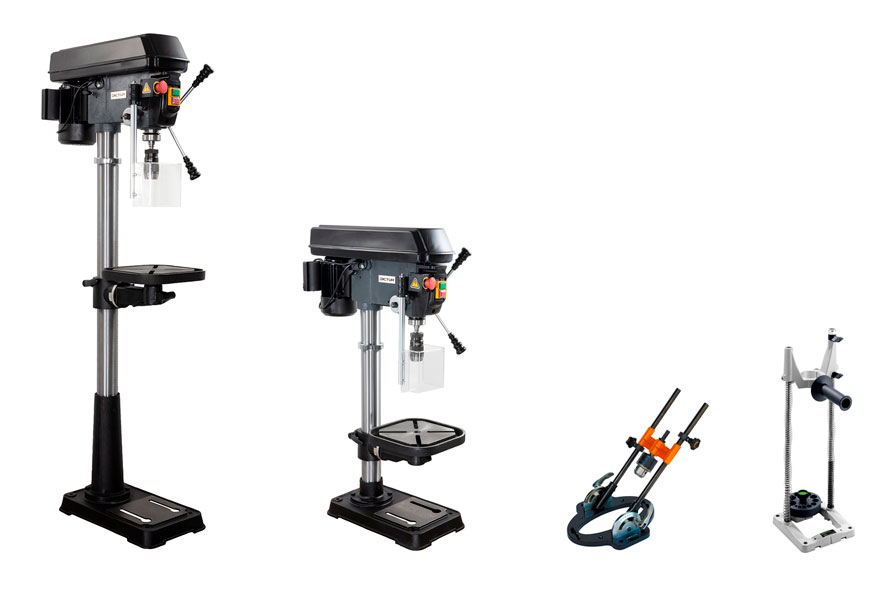 A drill stand is a worthwhile investment. If you work a lot with wood, but also drill holes in metal and plastic, a mobile or stationary drill stand will sooner or later be almost unavoidable. Not all drill stands are the same – in the following, we will therefore introduce you to individual models, possible applications, and the difference to a pillar machine.
What are the benefits of a drill stand?
With a drill stand, you can mount the drill so that the holes to be drilled or milled are accurate to the millimetre. You benefit directly from this drilling station in your workshop – it serves as your first choice when it comes to perfect hole drilling, angular drilling, exact drilling depths or series drilling. Whether for DIY projects, furniture construction or repair work, the drill stand is a worthwhile drilling aid that makes a lot of work easier. Especially as you can still use your drill as you wish – but you also have the option of securing it in the drill stand.
What types of drill stands are there?
Mobile drill stands

Stands for drills and cordless drills divide into mobile and stationary drill stands. Mobile drill stands, such as the Star-M Drill Stand, are space-saving, flexible to use and a comparatively inexpensive purchase. Mobile drill stands are actually drilling aids rather than stands, because these devices do not support the weight of the drill, but only offer support for precise hole drilling. This is what you should keep in mind when making your purchase.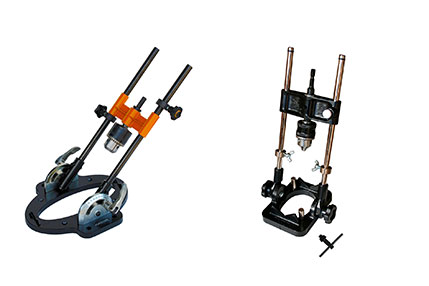 Swivelling drill stands allow precise and repeatable drilling even beyond right angles.
Another difference: the mobile stands are placed directly on the workpiece – so there is no base-plate. For occasional drilling into workpieces or on the wall, as well as angle drilling, mobile rotatable drill stands are exactly the right tool. Mobile drill stands that do not bear the weight of a large drill hammer are naturally better suited for light drills or cordless drills. Mobile drill stands are unmatched in terms of flexibility.
Stationary drill stands
Craftsmen who often drill in series and need a load-bearing stand for their drilling machine resort to stationary drill stands. Here, the drill is not only fixed, but can be completely clamped and put down. The perfect accessory for a heavy and powerful drill.
Stationary drill stands are solid, heavy and have a fixed base-plate. Their field of application includes vertical, horizontal, and angle drilling. The heavy stands require a fixed place on the workbench and cannot easily be stored away somewhere – you should also bear this in mind before purchasing. Also important: You cannot drill holes in walls or large workpieces with stationary drill stands because the distance to the column is rigid. The transverse path is not adjustable.
You can also use your drill for stationary drill stands. Since the rather heavy stands are usually barely moved around in the workshop, you should have a power connection nearby so that you can clamp your drill and get started at any time.
Tips for buying drill stands
No matter which variant you choose: Make absolutely sure that your drill fits into the holder. The drill stands we sell have their own drill chuck, which means this problem does not arise. The Festool drill stands, such as the Festool Drill stand for carpentry GD 460, are an exception. These fit most other manufacturers' drilling machines.
Another decision criteria is the drilling stroke. How deep a drill hole can be drilled to the maximum. This specification concerns models with a fixed drilling table – i.e., the stationary drill stands. Typically, the drilling depth is between 60 and 80 mm.
Alternatives to the drill stand
In addition to drill stands, there are other drilling aids that are somewhat more space-saving. For example, mobile drilling aids such as the Milescraft Dowel Jig JointMate for an exact 90-degree plunge angle or drilling templates so that dowel holes are exactly in the centre of the workpiece. A very useful tool for corner-, T- and width-joints.
You can determine the drilling depth here by marking the drill bit with tape. A time-saving alternative, which of course does not offer as many possible uses and also loses precision if you do not pay attention during use.
What are the advantages of a column drill press?
There are other tools available for professional hole drilling in your workshop. In addition to mobile drilling aids and drill stands, there are also column drill presses, such as the DICTUM Column Drill Press SB20/B. Column drill presses are large, heavy and, above all, stable devices with their own drill head.

This means that no already available drilling machine is clamped here. Bench drills are a very expensive purchase that pays off, especially if you value very precise drilling, frequently drill into metal and other hard materials, or carry out exact drilling in series.

These professional tools are definitely an investment, but they offer corresponding comfort. If you are thinking about purchasing one, you should not forget that the column drill press needs a permanent place in your workshop, as it weighs between 50 and 100 kg, depending on the model. One difference to drill stands is the adjustment of the rpm, which in the case of DICTUM column drill presses is done via pulleys, for example.
How to adjust a drill stand and the drilling depth correctly?
Once you have decided which drill stand is the right choice for your workshop, it is time to adjust the drill stand. Without correct settings, there will be no accurate drilling. Basically, each model is adjusted differently depending on the manufacturer – however, the following procedure is generally applied:

First, insert the drill of the desired size and lower it onto the workpiece or wall. If no depth stop is required, you can now switch on the drill and drill the hole. If you need a blind hole – for example for dowels – proceed as follows: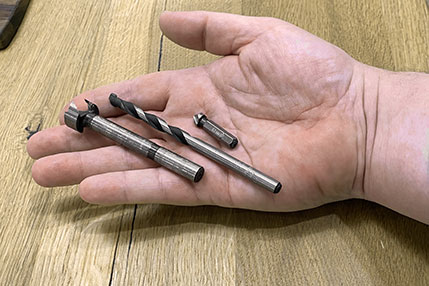 Figure 2: Regardless of whether you use a Forstner bit or a snake bit – when drilling blind holes, remember to add the point to the hole depth.
Mark the desired depth on the outside of the workpiece and place the workpiece slightly offset on the drill table so that you can lower the drill to the desired depth in front of the workpiece when it is switched off.
Do not forget the overrun for the drill tip when determining the drilling depth. Every drill has a tip that does not produce a usable hole. This tip must be added to the drill hole depth. For example, if the drill tip is 5 mm long and you want a 3 cm deep hole, set the depth stop to 3.05 cm.
Which drill stand suits me and my drill?
To help you decide, we have summarized the most important facts about drill stands and column drill presses:
Drilling aids and drilling templates are fixed to the workpiece and are a simple support when drilling dowel holes or exact 90-degree holes.
Mobile drill stands are for craftsmen who drill occasionally or have no space for a stationary drill stand. Lightweight drills or cordless drills can be accommodated here. They are also ideal for mobile work.
Stationary drill stands need space in the workshop and offer help with drilling in series, angle drilling and deep drilling. A useful addition for powerful and heavy drilling machines.
Column drill presses are a purchase for life and are in demand for hole drilling in metal and professional drilling in series. A drill is not needed because the unit has its own drill head.