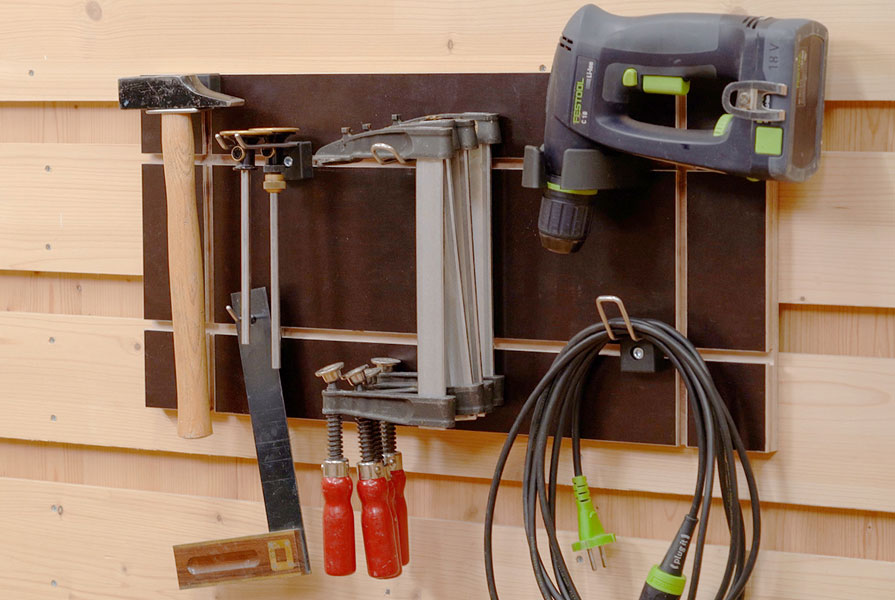 Handy tools, practically arranged and always at hand. A well-organised tool wall simplifies work and visually enhances the workshop. There are countless ways of building a tool wall. Traditional tool cabinets or hard foam boards are not very flexible. Perforated tool walls or the »French Cleat« system are much more flexible. With tool holders for T-slots, you can organise your tool wall even more easily and take it with you to the workplace, as it were.
Advantages of tool holders for T-slots
Different shapes for different tools
Easy to insert and move
Fit into self-milled T-slots and T-tracks
Compatible with numerous machine tables and multifunction tables (MFTs)

With simple hooks, open and closed double hooks, pliers holders and holders for cordless screwdrivers, you can easily hang up various hand and power tools and their accessories. If new tools are added or you want to rearrange your tools, you can move or relocate the holders in the T-slots at any time (you usually only have to loosen one screw to do this!). Since we supply our tool holders with a slot nut and two different threaded panels, you can insert them both in self-milled T-slots and in various aluminium T-tracks. There are T-slots on most multifunction tables and many stationary machines, into which you can insert the tool holders.
Practical examples
Example 1: When assembling larger carcases, you want to keep the work surface free. Take your cordless screwdriver and its holder to the MFT and insert the holder into one of the circumferential T-tracks on the table frame. Your cordless screwdriver is held securely, cannot fall off the table and is still always within reach.

Example 2: You want to set up a versatile routing station using the mobile workshop by Festool. When changing the router bits, you can quickly disconnect all Festool routers completely from the mains (think safety!) thanks to Quicklock. In order to prevent the power cable and the hose of the extraction unit from falling to the ground, you can insert a short, closed double hook into one of the T-tracks of this »mobile workshop«.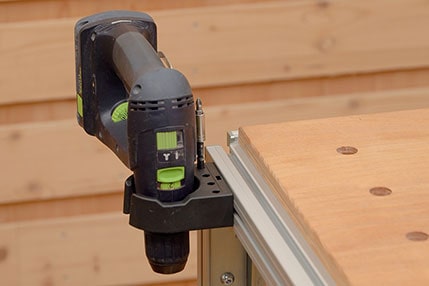 The tool holders perfectly fit the DICTUM® Multifunction Table PRO
Example 3: A Multi T-track Clamping Device holds your workpieces securely, thus enabling precise scribing of workpiece fronts. Place all the necessary marking tools directly at the workplace using the respective tool holders. This allows you to concentrate fully on scribing.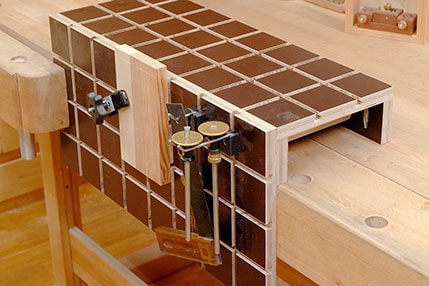 Have all your scribing tools ready-to-hand at the workplace
»Dont's« for the tool wall
Draw outlines on the wall. Tools wear out, break or get lost. The new ones usually do not have the same shape as their predecessor. If you want to redesign your wall, you will be unnecessarily restricted by the outlines.
Hang up unnecessary items. Tools that you use only rarely or not at all do not belong on the wall. Store them away from dust in a cupboard or exchange them for useful tools.
Draw outlines on the wall. Do not hang tools too close together, but leave enough space between them. Special care should be taken with cutting tools, especially chisels and carving knives. Minimise the risk of injuring yourself on open cutting edges. Do not hang other tools below the open cutting edges. The best place for cutting tools is therefore as far down as possible on the tool wall.
Chaos. Hanging screwdrivers next to chisels may look good, but does not result in any advantages, as these tools are rarely used together. Organise your tools into groups so that you can keep track of them. Tools that are often used together form sensible units, e.g. chisel and mallet or ruler, marking gauge, square and sliding bevel.