Saji Hunting Knife Cherry Bark
With this generously dimensioned utility knife the master blacksmith reanimates the traditional art of cherry bark handwork (Kaba Zaiku). The beautifully grained, breathing skin of the cherry tree adds class to the handle and sheath. The strong blade of 11-layered Suminagashi steel is amazingly sharp and durable even under the most demanding conditions. Cutting core of White Paper Steel, hardness 60 HRC, not rustproof.
Outdoor knife Saji - hand-forged to ultimate perfection in Japan
The Japanese master smith Takeshi Saji uses traditional components to fashion utility knives that have revolutionised the market - not only in Japan. Blades of multi-layered steel make these knives feasts for the eyes, while the steel used for the cutting edges lends exceptional sharpness and durability. The size of the handles is designed with European hands in mind, while a firm attachment of the tang and anti-slip features ensure that these knives are also ideal for heavy use. Saji's knives are characterised by highly functional design and a rustic finish alongside exceptional value for money. The master engraves his signature by hand on each of the blades. Double-bevelled. Suitable for use with leather sheath No.
709882
.
more
less
Blade length

155 mm

Blade thickness

5.5 mm

Overall length

280 mm

Weight

250 g
Discover product in our flip catalogue:

Ready to ship today, delivery time 2-3 workdays within Germany
€319.00

per piece(s)
Prices incl. VAT

Accessories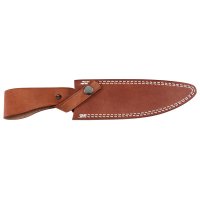 Handmade robust cowhide sheath with belt loop, fits Hunting Knife Saji Cherry Bark No. 709036 .
incl. VAT plus shipping costs
Article No. 709882